Brian Kelly
BK Records CD001; 49 minutes; 2001
The banjo is pretty low down the pecking order of Irish traditional instruments. As the old chestnut goes, "What's the definition of perfect pitch? Tossing an accordion into a skip and hearing it smash a banjo." Yet, despite such potential disparagement, London continues to nurture fine exponents of the instrument and Brian Kelly is one of the latest in a long line that includes Mick O'Connor, John Carty and Bernie Conneely (formerly of The London Lasses). Like many a young London-Irish musician, Brian took lessons from the influential Brendan Mulkere and went on to win All-Ireland titles on both the banjo and mandolin. <![if !vml]>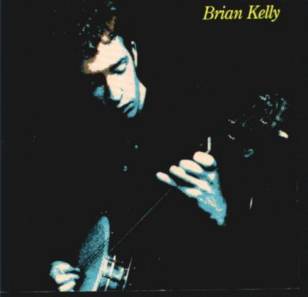 <![endif]>
Brian Kelly has been a familiar face on London's Irish circuit for some time now, thanks in part to a four-year residency with guitarist Paddy Gallagher at The Stag's Head on Camden Road (where the sessions have now ended), and his shock of ginger hair (sadly not visible on the CD's liner). This debut album was launched at last year's Return to Camden Town festival, but, like many an independent release, has barely been mentioned since and more's the pity. Accompanied by Paddy Gallagher and with additional assistance from Brian's sister Martina on fiddle and John Blake (now of Téada) on flute and piano, Brian's banjo ripples through a series of eleven tracks with disarming ease. There's none of the excessive elaboration to which some banjo-mongers are prone, for this man knows an ornament when he sees one and, more importantly, when and where to play it.
His tune is wide-ranging, encompassing both session favourites (Moving Cloud, Tom Billy's, Eddie Kelly's) alongside less familiar tunes such as Lump of Pudding and Crib of Purchase. There's also room for one of his own compositions, the auspicious and eponymous Brian Kelly's No.1, but what's ultimately inspirational about this album is the joyous tone of Brian's banjo and the sheer clarity of his playing, both of which are more than sufficient to quell the doubts of anyone unimpressed by previous banjo albums (pace Gerry O'Connor!).
---
This review was written by Geoff Wallis for Musical Traditions – www.mustrad.org.uk.
The CD is available directly from Brian Kelly – www.brian-kelly.com.
---
<![if !supportEmptyParas]> <![endif]>