De Dannan
<![if !supportEmptyParas]> <![endif]>
A Jacket of Batteries
<![if !supportEmptyParas]> <![endif]>
Harmac HMCD48; 45 minutes; 1988
<![if !supportEmptyParas]> <![endif]>
Considering the band's career spanned some twenty-eight years from its formation in 1974 to its parting of the ways in 2002, A Jacket of Batteries falls right at the mid-point of De Dannan's musical journey and was one of the earliest CDs issued by the Dublin-based Harmac company. <![if !vml]>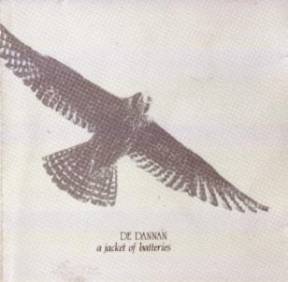 <![endif]>
<![if !supportEmptyParas]> <![endif]>
De Dannan's history is one characterized by personnel changes and the band can justifiably be compared to one of those English football teams of the 1980s regarded as 'a selling club'. Many of its 'transfers' went on to perhaps greater things (especially singers such as Mary Black, Dolores Keane and Maura O'Connell) while other members (e.g. Andy Irvine or Johnny Moynihan) were almost like temporary loan signings.
<![if !supportEmptyParas]> <![endif]>
A Jacket of Batteries saw the arrival of yet another new singer, Leitrim's Eleanor Shanley, while the bedrock duo of Frankie Gavin and Alec Finn were here joined by a young Aidan Coffey on accordion, Colm Murphy on bodhrán and, though she's not depicted on the tray liner (see below), cellist Adele O'Dwyer. Additional guests include Trevor Hutchinson on bass and singers Jimmy MacCarthy and the surname-deficient Shaney and Wanda.
<![if !supportEmptyParas]> <![endif]>
Despite the personnel changes all the standard De Dannan elements are present, namely: a clutch of reels redolent in style of The Flanagan Brothers; a touch of Americana in the form of Flatbush Waltz; exhibition of Frankie's dabbling in the popular classics in the shape of The Rambles of Bach; interpretation of a slow air – The Mountains of Pomeroy; a traditional Irish song – Táim i mo Shuí; plus the ballad Carrickfergus and several contemporary numbers, including three songs by Phil Colclough and a typically spicy instrumental (and part-lilted) rendition of The Beatles' Eleanor Rigby which, frankly, is so God-awful one wonders whether it was included simply to maintain the band's reputation as Beatles-lovers.
<![if !supportEmptyParas]> <![endif]>
<![if !vml]>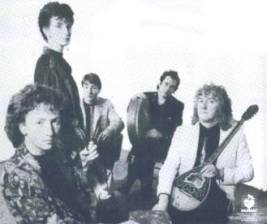 <![endif]>Like many a De Dannan album A Jacket of Batteries lacks overall coherency. It certainly functions well when Gavin, Finn and Coffey are in full swing, but sadly, almost twenty years on, seems uninspired and the playing is often inconsistent.
<![if !supportEmptyParas]> <![endif]>
Like many an early CD this has the appearance of being produced on the cheap with the front and rear covers of the liner booklet replicating the simultaneous vinyl release (indeed the liner's two inner pages are blank). The album credits are miniscule and require a magnifying glass to discover that Irish Rail is amongst those thanked. The tray liner, however, does carry an intriguing picture of the band, four of which face the camera insouciantly while Aidan Coffey seems decidedly discomfited by the experience. Fashion-lovers should note Frankie's New Romantic hairstyle plus Alec's button-down shirt and string tie.
<![if !supportEmptyParas]> <![endif]>
Geoff Wallis
<![if !supportEmptyParas]> <![endif]>
28th April, 2006
<![if !supportEmptyParas]> <![endif]>
---
<![if !supportEmptyParas]> <![endif]>