Dinny McLaughlin
Play it by Ear
Own label - no number; 51 minutes; 2001
Here, at long last, is a second album from one of the most notable figures in the Donegal fiddle tradition, Dinny McLaughlin, whose debut, the long out-of-print A Rake of Reels and a Clatter of Jigs, appeared in 1971. <![if !vml]>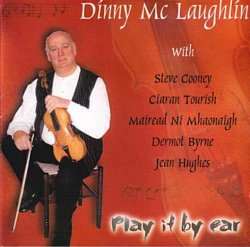 <![endif]>Once known as 'White Harra' to distinguish him from the many other McLaughlins living around his native Shandrum, near Buncrana, sadly much of his white hair has gone, but, fortunately none of his musical skills. Long-known for his party piece of singing, dancing and fiddling simultaneously, Dinny is renowned as a teacher; though it took perhaps his best-known pupil, Altan's Ciarán Tourish, in cahoots with Steve Cooney, to cajole Dinny into recording this album.
Launched at the end of 2001, the album includes guest spots from not only Ciarán himself on whistle, but his Altan colleagues Maireád Ní Mhaonaigh and Dermot Byrne, plus Jean Hughes on cello and a quintet of singing priests (but more of that anon). Being multifaceted artistically (Dinny also plays whistle and piano and pens poetry), this CD explores a multiplicity of the man's talents. His fiddle-playing of slow airs, such as Blind Mary, is sumptuous, while faster pieces, such as his own reel Failte go Teach Dinny, are both stylish and infectious. Contrast comes too in the form of another party piece, The Coolin, running straight into a characteristically jaunty hornpipe, The Friendly Visit, which bears the swaggering stamp of Seán McGuire, though Dinny learned it from a record by Peter Wyper.
Several of Dinny's song compositions also feature, sung by the man himself to his own piano accompaniment. Three are in Irish, and only one in English and this, Angel Friends, is a sad valediction to those who died in the bombing of Omagh, which included three young boys from Buncrana. The fifth song features the aforementioned priests from his local diocese singing the hymn Salve Regina in unison as a setting for Dinny's poem expressing a wish for everyone's future peace - an unusual, but striking ending to an album.
It might be difficult to find copies of this generally excellent album since the liner notes (co-written by another well known pupil, Liz Doherty) provide no details of a webpage. However, Húdaí Beag's in Bunbeg had copies behind the bar and it was also stocked by the nearby Dunlewey Centre in Money Beg - presumably, it's obtainable in Letterkenny too.
---
This review by Geoff Wallis was originally written for Musical Traditions - www.mustrad.org.uk.
---
<![if !supportEmptyParas]> <![endif]>