Kevin Burke
<![if !supportEmptyParas]> <![endif]>
Sweeney's Dream
<![if !supportEmptyParas]> <![endif]>
Smithsonian Folkways Recordings; SFW CD 40485; 46 minutes; 2001
<![if !supportEmptyParas]> <![endif]>
Fiddler Kevin Burke was but a fresh-faced lad of 22 when he fetched up in New York in 1972 and recorded Sweeney's Dream. It was the beginning of a recording career which has spanned three further solo albums and nearly twenty others as part of The Bothy Band, Planxty, Open House and the Celtic Fiddle Festival, and including collaborations with guitarist Michéal Ó Domhnaill and accordionist Jackie Daly. In the late 1990s Burke returned to playing solo, releasing the glorious In Concert, and thereby demonstrating how long a road he'd travelled since his debut. Sweeney's Dream is subtitled 'Fiddle Tunes from County Sligo, Ireland' and saw the London-born Burke returning to his parental roots and drawing from the music he first heard in childhood, especially the 78s recorded in the USA by emigrant Sligo fiddlers such as Michael Coleman and James Morrison. Regular visits to Sligo further immersed Kevin in the local style, while his musical education expanded through travels around Ireland and playing with Irish musicians in London. <![if !vml]>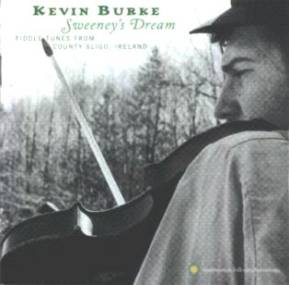 <![endif]>
<![if !supportEmptyParas]> <![endif]>
<![if !supportEmptyParas]> <![endif]>
Thus Sweeney's Dream effectively exposed a talent still raw around the edges while announcing a fiddler of astounding technical ability, keen to wear his influences on his sleeve. So, on the reel The Humours of Lissadell, even despite the characteristic swoop and slide of Burke's bow, it's easy to recognise that Kevin learned the tune from Paddy Killoran's original 1930s recording while Bonnie Kate/Jennie's Chickens emulates Michael Coleman's 1934 78, both in style and tune sequence. Nevertheless, there's the still the inklings of a powerful imagination caught at a relatively embryonic stage. Burke's playing shines on the unaccompanied tracks and even glimmers through the mire of some pretty inept accompaniment. A certain Henry Sapoznik appears to be playing a banjo with a chisel while someone should have told him that both the 12-string guitar and autoharp are anathematic to Irish music.
<![if !supportEmptyParas]> <![endif]>
On a discographical note, this is the second reissue of the original 1973 Meadowlark Records LP and was first re-released on CD by Ossian Publications. This Smithsonian version comes complete with new sleeve notes, including several autobiographical pages from Kevin, detailed comments on each tune and a full list of his recordings.
<![if !supportEmptyParas]> <![endif]>
---
This review by Geoff Wallis was originally written for Songlines magazine – www.songlines.co.uk.
---
<![if !supportEmptyParas]> <![endif]>
<![if !supportEmptyParas]> <![endif]>
<![if !supportEmptyParas]> <![endif]>
<![if !supportEmptyParas]> <![endif]>
<![if !supportEmptyParas]> <![endif]>