They Love Music Mightily
Ulster Folk and Transport Museum/Irish Traditional Music Archive - no number; 38 minutes; 2000
The Collins Barracks is one of the strangest places in Dublin, a quadrangular building constructed around a huge yard in which distance indicators to aid parading troops are still marked clearly in white paint. <![if !vml]>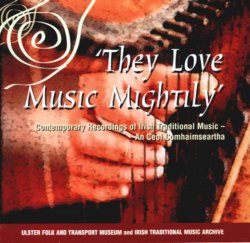 <![endif]>Inside, in fragile contrast, is the National Museum's collection of decorative arts, a potpourri of the flimsy, fascinating and just sheer chintzy. However, at present it also houses (until June, 2002) a marvellous, if small, exhibition focused on a broad selection of traditional singers and musicians with information on their backgrounds and the chance to hear each singing or playing unaccompanied.
For those wanting to hear this music again in their own living rooms, fortunately the museum's shop stocks copies of this CD, subtitled 'Contemporary Recordings of Irish Traditional Music - An Ceol Comhainseartha'. All tracks, bar a couple, were specially recorded in 2000 by ITMA's Glenn Cumiskey with the exceptions made by the Ulster Folk and Transport Museum whose musical curator, the uilleann piper Robbie Hannan supplies brief notes on each of the singers and musicians present and their choice of song or tunes.
The collection rounds up the well-known and oft recorded (accordionists Brendan Begley and Mary Mac Namara, fiddler Paul O'Shaughnessy, uilleann piper Ronan Browne and John Carty on banjo) together with the less familiar, less frequently or never previously recorded. Perhaps because of familiarity with those named above it is these other singers and musicians who attract the ear.
There's a nowadays rare solo outing by the former member of The Chieftains, Seán Potts, playing tin whistle on the air Cuimhne an Phíobaire ("The Piper Remembered"), an original composition in memory of his grandfather, John Potts. More staggering, however, is an absolute rarity, a recording by the Belfast flute player, Gary Hastings, now a Church of Ireland minister in Westport. Gary's playing of the air Bessy the Beauty of Rossinore Hill, the tune of a song learnt from Mick Hoy of Derrygonnelly, Co Fermanagh, is simply breathtaking - an astonishingly soulful rendition which begs the question why nobody has ever forced him into the studio to record a solo album.
The Fermanagh connection is retained through the appearance of Rosie Stewart who resonantly sings a song popular in her native Roslea area, My Charming Edward Boyle, while Patricia Flynn, from Co Armagh, provides a splendid version of the more well-known The Flower of Magherally. There are two songs in Irish. The first comes from native Tory Islander, Treasa Ní Laifeartaigh, singing Thiar i gConnachta ('Over in Connaught'), the dark tale of a young woman forced to be party to an arranged marriage with an older man. In contrast, Eamonn Ó Bróithe offers Sliabh Geal gCua na Féile, written by the Co Waterford poet Pádraig Ó Miléadha in praise of his native place.
Lastly, there are two oddities. The former, the Carolan piece Loftus Jones, is played by a Canadian, now resident in Clare, Paul Dooley on a harp of his own construction based on a medieval model. Plucking strings made of harpsichord wire with his fingernails produces a brighter sound which some might argue is close to the sound made by the old brass-strung harp. Of course, we can never know.
The other falls firmly into the 'like it or leave it' category and depends on your opinion of the pianist Micheál Ó Súilleabháin's idiosyncratic mélange of traditional music with classical and jazz stylings.
The album is not available commercially, but well worth grabbing if you happen to be either in Dublin or visiting the Ulster Folk and Transport Museum in Cultra, Co Down.
---
This review by Geoff Wallis was written for Musical Traditions – www.mustrad.org.uk.
---