An Gaoth Aduaidh/The North Wind
<![if !supportEmptyParas]> <![endif]>
Solo Flute Playing from the Irish Tradition
<![if !supportEmptyParas]> <![endif]>
Frankie Kennedy Winter School FKWS001; 69 minutes; 2004
<![if !supportEmptyParas]> <![endif]>
<![if !supportEmptyParas]> <![endif]>
It would be hard to identify a worthier musical cause than the Frankie Kennedy Winter School which has been educating musicians and entertaining the inhabitants of Gweedore and beyond for the last decade. This album commemorates Frankie's memory by the most fulfilling and appropriate means, drawing upon the strengths of thirteen flute players who either knew him well or have been inspired by his music. <![if !vml]>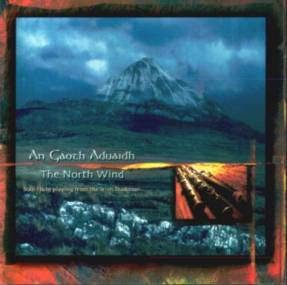 <![endif]>
<![if !supportEmptyParas]> <![endif]>
Fittingly, the liner cover depicts the quartz-flecked Errigal Mountain, albeit photographed (I think) from the unfamiliar viewpoint you would only discover if you took the winding back road from Moneybeg to Cashelnagor. The mountain, of course, overlooks Ionad Cois Locha (the Dunlewey Lakeside Centre), the Winter School's main venue.
<![if !supportEmptyParas]> <![endif]>
The album itself fully demonstrates the current strength of Irish flute playing and the subtleties employed by practitioners of the art. Blissfully, all are unaccompanied, though, as Ian Smith pointed out to me, this also offers the chance for experienced and budding accompanists to hone their skills by playing along to the thirteen tracks presented here.
<![if !supportEmptyParas]> <![endif]>
Naturally, as the title might suggest, there is a strong Northern representation here with no less than seven of the participants hailing from the Six Counties (Harry Bradley, Gary Hastings, Gerry O'Donnell, Marcas Ó Murchú, Desi Wilkinson, Hammy Hamilton and Tara Bingham) and most of those coming from Belfast or, in Tara's case, not too far away. Then there's the Donegal element provided by Briain Ó Domhnaill and Clodach Nic Ruairí, the latter even recording her track in the Kennedys' home in Andersonstown, while both Paul O'Shaughnessy (a rare flute outing for the fiddler) and Paul McGrattan are both heavily influenced by Donegal's music. That just leaves a third Dubliner, Conor Byrne, who had just taken up the flute when he first met Frankie in 1983, and Matt Molloy. The latter recalls a discussion with Frankie "about the beauty of first takes when recording" and goes on to demonstrate with a stunning rendition of A Stór mo Chroí, followed by the reels The Primrose Lass and McGovern's Favourite.
<![if !supportEmptyParas]> <![endif]>
However, singling out just one track constitutes a disservice to every single one of the musicians involved here and it is not just their collective quality which makes this album an essential purchase, but the spirit in which the album was made. Dermot Byrne's production focuses firmly on clarity and the accompanying liner booklet is beautifully presented. Don't miss this one!
<![if !supportEmptyParas]> <![endif]>
Geoff Wallis
<![if !supportEmptyParas]> <![endif]>
11th May, 2004
<![if !supportEmptyParas]> <![endif]>
---
<![if !supportEmptyParas]> <![endif]>
The album is available for purchase at Ionad Cois Locha and Books and Charts, Dungloe. It is also stocked by Claddagh – www.claddaghrecords.com/.
<![if !supportEmptyParas]> <![endif]>
---
<![if !supportEmptyParas]> <![endif]>
<![if !supportEmptyParas]> <![endif]>
<![if !supportEmptyParas]> <![endif]>
<![if !supportEmptyParas]> <![endif]>