Alan & John Kelly
<![if !supportEmptyParas]> <![endif]>
Fourmilehouse
<![if !supportEmptyParas]> <![endif]>
Black Box Music BBM2003; 48 minutes; 2002
<![if !supportEmptyParas]> <![endif]>
Fourmilehouse is the Roscommon-born piano accordionist Alan Kelly's third album and marks a notable return to his traditional roots after the eclecticism of its predecessor Mosaic (released in 2000). His flute- and whistle-playing younger brother John appeared on both Mosaic and Alan's 1996 debut, Out of the Blue, and here shares top-billing, recreating the youthful partnership which used to compete at fleadhanna.<![if !vml]>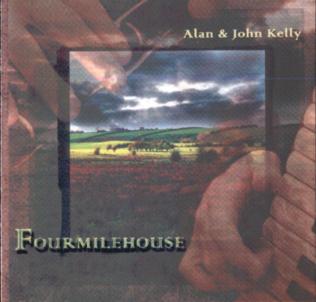 <![endif]>
<![if !supportEmptyParas]> <![endif]>
The Kellys' parents were both members of the Killina Céilí Band which also featured the fiddler Paddy Ryan who provided the notation for some of the tunes learned by the brothers in their childhood and recreated on Fourmilehouse (the name of their father's home village). Others, such as The One That Was Lost jig and The Four-Leafed Shamrock, derive from the authorship of Paddy "Tipperary" O'Brien, while The Duke of Leinster is a reel first popularised by Michael Coleman.
<![if !supportEmptyParas]> <![endif]>
Alan Kelly's previous recordings have been characterised by the sheer brio of his playing (and the rarity of that piano accordionists' bane – overuse of the bass) and the tune selection here gives full sway to his abilities. Reels predominate (featuring on no less than seven of the twelve tracks), albeit that one is the slower aforementioned Coleman classic, which follows the album's only air, The Parting Glass, played by Alan. Meanwhile, John gets a chance to shine on a set of tunes kicked off by the Caucus Reel and offers a typically blowsy, but ever fun North Connaught-style rendition of The Bush in Bloom. As a pair, the two probably best spark on the closing set, begun by Sonny Brogan's which also features some typically stylish guitar work from Arty McGlynn.
<![if !supportEmptyParas]> <![endif]>
The last-named is just one of several top-notch accompanists selected by the Kellys whose number includes Jim Higgins on bodhrán, John Carty's sparring partner Brian McGrath on banjo and piano, and the well-known Clare musician, Cyril O'Donoghue on bouzouki.
<![if !supportEmptyParas]> <![endif]>
Thoroughly enjoyable throughout and with one of the cleanest production sounds heard for some time to boot (courtesy of Alan Kelly), this is a splendid summation of the brothers' musical powers.
<![if !supportEmptyParas]> <![endif]>
---
<![if !supportEmptyParas]> <![endif]>
Reviewed by Geoff Wallis for Musical Traditions magazine – www.mustrad.org.uk.
<![if !supportEmptyParas]> <![endif]>
The album is available directly from Black Box Music at www.blackbox.ie.
<![if !supportEmptyParas]> <![endif]>
<![if !supportEmptyParas]> <![endif]>
---
<![if !supportEmptyParas]> <![endif]>
<![if !supportEmptyParas]> <![endif]>
<![if !supportEmptyParas]> <![endif]>
<![if !supportEmptyParas]> <![endif]>
<![if !supportEmptyParas]> <![endif]>