ARTY McGLYNN, CHRIS NEWMAN, NOLLAIG CASEY,
MÁIRE Ní CHATHASAIGH
<![if !supportEmptyParas]> <![endif]>
Heartstrings Sessions
<![if !supportEmptyParas]> <![endif]>
Old Bridge Music OBMCD16; 48 minutes; 2008
<![if !supportEmptyParas]> <![endif]>
Believe me, I'm trying to be restrained, but having listened to this album repeatedly over the last week, it's impossible to resist entering hyperbolic realms. So, let's be blunt, if this CD is not a contender for album of the year, multiple awards and ennoblement for all concerned, then I'm fully prepared to eat every hat in Leitrim.
<![if !supportEmptyParas]> <![endif]>
<![if !vml]>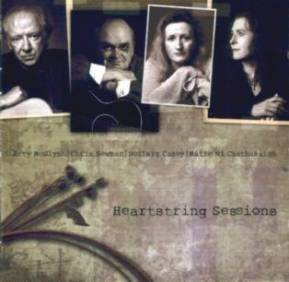 <![endif]>Its recipe for success seems simple on the surface. Take one of Ireland's most successful musical pairings, guitarist Arty McGlynn and fiddler Nollaig Casey (who've previously released two superb albums in the form of Causeway and Lead the Knave), and unite them with another acclaimed couple in the shape of Bristolian guitarist/mandolinist Chris Newman and Nollaig's sister, harper Máire Ní Chathasaigh, two equally inspired musicians who've steadily released a series of fine albums ever since 1988's The Living Wood, not forgetting Máire's groundbreaking The New-Strung Harp from 1985. Stick them together in a studio, add a smidgeon of live recordings, simmer, savour and serve (preferably with a fine red from the Douro valley).
<![if !supportEmptyParas]> <![endif]>
Then sit back and enjoy the intricacy of two contrasting guitar styles (gutsy Arty and more intricate Chris), encapsulated in a stonking rendition of Merle Travis's Saturday Night Shuffle, Nollaig's utterly soulful fiddle which achieves its zenith on a raunchy rendition of Bill Monroe's Gold Rush plus her eloquent vocal renditions of Among the Heather and A Mháire Bhán Óg. Finally, bask in the sheer beauty of Máire's harp – grace embodied, but with that ever-present sense of danger, and offering a complexity that oft-times defies comprehension.
<![if !supportEmptyParas]> <![endif]>
What's more, each listening to Heartstrings Sessions adds new subtle enjoyment and it's apt that its closing track (a set of reels kicked off by The Old Bush) gradually fades into the distance, suggesting that somewhere this stellar quartet is still enjoying its own musical company.
---
<![if !supportEmptyParas]> <![endif]>
Reviewed by Geoff Wallis for fRoots magazine – www.frootsmag.com.
<![if !supportEmptyParas]> <![endif]>
More information about Old Bridge Music visit www.oldbridgemusic.com.
<![if !supportEmptyParas]> <![endif]>
---
<![if !supportEmptyParas]> <![endif]>
<![if !supportEmptyParas]> <![endif]>
<![if !supportEmptyParas]> <![endif]>
<![if !supportEmptyParas]> <![endif]>
<![if !supportEmptyParas]> <![endif]>