Amergin
<![if !supportEmptyParas]> <![endif]>
The Gypsy Princess
<![if !supportEmptyParas]> <![endif]>
Green Note GN4; 34 minutes; 2001
<![if !supportEmptyParas]> <![endif]>
Intentions are like ATM receipts – no matter how long you keep them they never can replace the money withdrawn from your account. So, inspired by another little piece of work which reminded me of this excellent CD's existence, here's a brief review.
<![if !supportEmptyParas]> <![endif]>
<![if !vml]>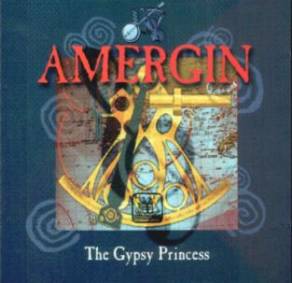 <![endif]>Amergin are based in the Kerry town of Kenmare, nowadays a rather upmarket place with restaurant and accommodation prices to match, but there are still plenty of decent bars and a pretty vibrant local musical community. The band's five members on this recording are the fiddler and banjo player Joe Thoma, Dave O'Sullivan on accordion and also banjo, Andy O'Sullivan on harmonica and whistles, plus the bouzouki player Nick Urwin and singer Anita Heffernan (who also supplies bodhrán). Guests include the renowned former Boys of the Lough pianist John Coakley, Francis Thoma on bones, and T.J.M. Tutty on bass guitar.
<![if !supportEmptyParas]> <![endif]>
It has to be said that, in these days of albums of Gargantuan length, The Gypsy Princess is remarkably short, rolling in at just under 34 minutes (which was even regarded as rather truncated in the days when most LPs lasted for at least 36!). However, within that framework, there's some delightful playing on offer, with a notable Sliabh Luachra influence. The most obvious evidence of the Rushy Mountain comes in the form of the opening track, Murphy's Polkas, whose three tunes derive both from Billy Clifford (flute-playing son of Julia Clifford, Denis Murphy's sister) and another noted influence, especially on the harmonica playing of Andy O'Sullivan, the Murphy family of Bannow, County Wexford.  Another set, kicked off by Rathawaun, features three slides (two previously recorded by Denis) while Trip to Cullenstown reprises another Murphys' classic, albeit with a Sliabh Luachra flavour. Then there's the title track itself, learnt from accordionist Jackie Daly, providing another SL connection.
<![if !supportEmptyParas]> <![endif]>
If the album has a weakness (and, unfortunately, it's one that bedevils many independent releases), it lies in the featured songs and their arrangement. Anita has three songs on the album. The opener, Ho Ro My Johnny, was originally recorded by Oisín and is fine enough, but there've been simply too many recordings of Cyril Tawney's Grey Funnel Line and the rather ethereal production does not improve upon them. The last song is Fare Thee Well My Own True Love which really does fall into the sub-Mary Black genre.
<![if !supportEmptyParas]> <![endif]>
Nevertheless, the instrumental playing on this album (and not least Andy O'Sullivan's splendid rendition of The Knocknagree Polka) is more than sufficient to justify more withdrawals from the cash machine (though why the producer had to slide the fader on this just beggars belief!).
<![if !supportEmptyParas]> <![endif]>
---
<![if !supportEmptyParas]> <![endif]>
This is an original review by Geoff Wallis.
<![if !supportEmptyParas]> <![endif]>
To purchase this CD contact www.amerginmusic.com.
<![if !supportEmptyParas]> <![endif]>
---
<![if !supportEmptyParas]> <![endif]>
<![if !supportEmptyParas]> <![endif]>
<![if !supportEmptyParas]> <![endif]>
<![if !supportEmptyParas]> <![endif]>