Andrew Murray
<![if !supportEmptyParas]> <![endif]>
Hell or High Water
<![if !supportEmptyParas]> <![endif]>
White Cow Music BCM001; 49 minutes; 2005
<![if !supportEmptyParas]> <![endif]>
Mayo-born singer Andrew Murray has the kind of sumptuous voice which one would willingly acquire as part some Faustian pact with the devil. Slightly reminiscent of Dolores Keane's brother Seán, but perhaps more resonant and decidedly more intimate, it lingers and lurks in the soul's darkest areas while ever offering an optimistic chance of redemption.
<![if !supportEmptyParas]> <![endif]>
<![if !vml]>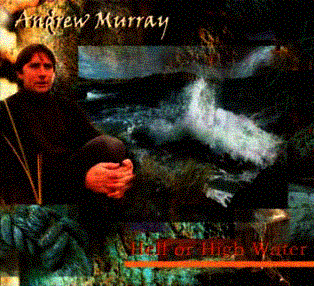 <![endif]>Hell or High Water is the debut by the ex-De Dannan singer and features a wonderful, often evocative selection of songs, both traditional or derived from the pens of such writers as Richard Thompson, Dougie MacLean, Thom Moore and Kevin (Four Men and a Dog) Doherty, as well as perhaps unexpected covers of tracks derived from the works of Tom Waits and the Grateful Dead (and, let's face it, there aren't too many of those around).
<![if !supportEmptyParas]> <![endif]>
Graced by very attractive packaging (a digipak case into which is slipped a twelve-page liner, complete with lyrics for all of the songs), Hell or High Water fully reveals a singer confident in both his choice of material and, thanks to crystal clear production by Gavin Ralston and sensitive arrangements (often featuring Ralston on guitar or telling string formulations by Fiachra Trench), someone very willing to test and prove the range of his voice's extraordinarily warm tones.
<![if !supportEmptyParas]> <![endif]>
Sometimes every component seems to work without any seams showing, as on an a stunning Jock o' Hazeldene, but, at others there's a somewhat ponderous feel – the listener really does sense that traversing the Black Muddy River requires gumboots and I'm not sure that Andrew really captures the flippancy inherent in Little Miss Kelly. However, any doubts about his interpretive qualities are fully assuaged by a glorious reading of I Wish My Love was a Red, Red Rose (with Arty McGlynn providing suitably apposite guitar).
<![if !supportEmptyParas]> <![endif]>
Like many a contemporary Irish album, there's a country feel to Hell or High Water. Now, spend a weekend night in Castlebar or Belmullet and you'll undoubtedly encounter a band offering a C & W approach to ballads. It's certainly an approach popular in both towns, but that doesn't guarantee success on record, as an inappropriately arranged and rather plodding rendition of Green Grows the Laurel (albeit with Tim O'Brien on fiddle and voice) soundly proves.
<![if !supportEmptyParas]> <![endif]>
Andrew's firmly at his best when he eschews glossy arrangements and heads directly for a song's core, allowing his resonant voice to explore the lyrics' meaning fully, so it's no surprise that the simplicity of Jock o' Hazeldene proves to be the perfect vehicle for his larynx while the closing The Father's Son ramifies that his vocal cords are most effective when linked with the sparsest backing.
<![if !supportEmptyParas]> <![endif]>
Geoff Wallis
<![if !supportEmptyParas]> <![endif]>
16th October, 2005
<![if !supportEmptyParas]> <![endif]>
---
<![if !supportEmptyParas]> <![endif]>
Andrew's website is www.whitecowmusic.com.
<![if !supportEmptyParas]> <![endif]>
---
<![if !supportEmptyParas]> <![endif]>
<![if !supportEmptyParas]> <![endif]>