At the Racket
Mirth-making Heroes
Racket Records RR003; 41 minutes; 2001.
As their own name and the title of their second album suggests, At the Racket place fun and frivolity pretty high on their musical agenda. This does not mean that they are some latterday traditional version of The Barron Knights (hugh exhalations of relief all round), but take as their starting point the music played in Irish-American dancehalls, especially by The Flanagan Brothers, in the 1920s and 1930s.
The band's regular line-up consists of fiddler, tenor guitar and banjo-player John Carty and his regular sparring partner, Brian McGrath, providing piano and keyboards accompaniment along with his own banjo. Garry Ó Briain is another well-known accompanist (here playing guitar, piano and his trademark mandocello) while the fourth member, Séamus O'Donnell provides flute and the perhaps dominant characteristic of the band's sound, the saxophone. Now, at the mere mention of Mr. Sax's said invention, some readers' hackles may already be on the ascendant. The saxophone would not comply with anyone's definition of an Irish traditional instrument, though it was employed by some céilí bands, most notably perhaps, in the person of Michael Dempsey with the Gallowglass. More recently, of course, Keith Donald played sax with Moving Hearts and Ritchie Buckley has proved his ability to play the jigs and reels on a number of albums, but the fact remains that anyone turning up at a session with a freshly polished alto is likely to receive the briefest of short shrifts. Finally, the Flanagans themselves played in all kinds of combinations, hiring additional musicians on the size of the venue and using, as a consequence, all manner of instruments while a notable picture of the Donegal fiddler Hugh Gillespie clearly shows him as part of a dancehall sextet (Packie Dolan's Melody Boys, I think) featuring no less than two saxophones. <![if !vml]>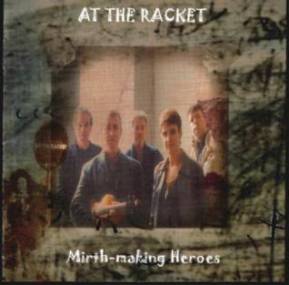 <![endif]>
However, anyone questioning At the Racket's right to include a saxophone would be missing the point for what is absolutely apparent from the outset of Mirth-making Heroes is that Séamus O'Donnell is an extremely talented traditional musician and one who has learned to curb the potential volume of his instrument to suit the band's needs. The combination of his instrument with, particularly, John Carty's banjo, as on cuts such as Danny Meehan's hornpipe is especially effective in producing a nostalgic and pretty cozy danceband feel. The use of sparse, rhythm enhancing piano accompaniment also give the band's sound a breezy, seaside feel, as though one is participating in a peculiarly Irish afternoon tea dance at one of those big hotels in Bundoran.
The bulk of the album consists of instrumentals, including many session favourites, with a perhaps unsurprising tendency, considering the roots of both Carty (Roscommon) and O'Donnell (Sligo), for tunes from North Connaught, including sources such as the McDonagh brothers from Ballinafad and the Sligo whistler Jimmy McGettrick. However, there's a notable Clare presence too with three tunes associated with Micho Russell.
Balance and continued interest is maintained by the inclusion of three songs, two sung by Brid Dooley and the third by O'Donnell. Brid has one of those voices to die for, entirely suited to A Chuísle Mo Chroí, associated with the Irish-American tenor, Charles Kennedy, and the oft-recorded Killarney and You. The former features what the band describe as their "full-blown brassy.. treatment".
The third song is Little Bridget Flynn penned by Percy French which, coincidentally, has also recently been recorded by Dónal Maguire. Séamus takes the lead here and sounds so much like his brother that it caused this reviewer to verify the personnel listing.
Overall, Mirth-making Heroes breaks new ground simply by fertilising an older plot and is, quite simply, just plain goodtime fun.
---
This review by Geoff Wallis was originally written for Musical Traditions - www.mustrad.org.uk.
For more information about At the Racket - www.attheracket.com.
---