Between the Jigs and the Reels
<![if !supportEmptyParas]> <![endif]>
Conamara Environmental Education & Cultural Centre CONCD002; 46 minutes; 2002
<![if !supportEmptyParas]> <![endif]>
Apart from being the name of Caoimhín MacAoidh's splendid account of the Donegal fiddle tradition, Between the Jigs and Reels is also the title of the poem by Moya Cannon:
<![if !supportEmptyParas]> <![endif]>
The rhythm of Cooley's accordion which could open the heart of a stone.
John Doherty's dark reels and the tunes that the sea taught him.
The high parts of the road and the underworlds which only music and love can brave
To bring us back to our senses and on beyond. <![if !vml]>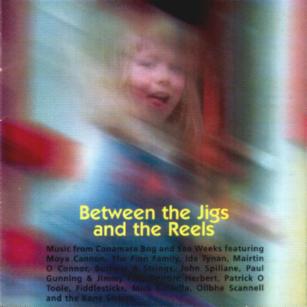 <![endif]>
<![if !supportEmptyParas]> <![endif]>
The author reads her work as the opening track on this ever-engrossing collection of music, song and recitation from County Galway and her lines above segue seamlessly into a superb rendition of Na Cannabháin Bhána/Hardiman the Fiddler from the McCarthy Sisters (Jacqueline, Bernadette and Marion) who grace the verse with some typically sumptuous music.
<![if !supportEmptyParas]> <![endif]>
This mood of excellence is maintained by the less well-known Finn Family, sparkling on a pair of reels, Down the Broom and The Gatehouse Maid, before being continued by Íde Tynan, singing her own evocative composition, Hunting the Whale. However, the ultimate high spot of this CD is its fourth track, the air, Annadown Pier, whose composer, Máirtín O'Connor squeezes every ounce of mood and inspiration via his accordion nonpareil.
<![if !supportEmptyParas]> <![endif]>
Track five features no less than three banjo players (and you thought one was more than enough) as part of Buttons and Strings, while the sixth is a song from the pens of John Spillane and Louis de Paor, Lupadáin, Lapadáin, into which John breathes his customary tinge of world-weariness. Next, accordionist Paul Gunning offers the musette-style The Columbian Waltz, before Déirdre Herbert revitalizes Shenandoah, thanks in part to some atmospheric harmonica from Mick Kinsella and suitably understated guitar from Padraig O'Broin.
<![if !supportEmptyParas]> <![endif]>
The problem with monologues is that you can only listen to them a few times before they pall, but Patrick O'Toole's Doherty's Election to the Senate contains enough implausible rhymes to prolong further interest. Track ten features a sextet of young fiddlers taught and joined here by the Kane sisters, while the eleventh allows Mick Kinsella to demonstrate his skills on both harmonica and concertina on two of his own compositions, Tune for Jo and The Accordionist.
<![if !supportEmptyParas]> <![endif]>
Next up, Oilbhe Scannell provides an appropriately moving version of She Moved Through the Fair and the album closes with the Kane sisters return for a vivacious, unaccompanied pair of jigs, Mick Cooney's Fancy and The Newtown Bridge.
<![if !supportEmptyParas]> <![endif]>
So, there you have it – thirteen superb and varied cuts and all produced with P.J. Curtis's customary clarity, élan and expertise, making this an album well worth acquiring. Oh, and there's a bizarre hidden track, but I'll leave you to discover that for yourself.
<![if !supportEmptyParas]> <![endif]>
---
Written for TIMR by Geoff Wallis.
<![if !supportEmptyParas]> <![endif]>
For more details about this album contact lfrack@eircom.net.
---
<![if !supportEmptyParas]> <![endif]>