Brian Hughes
<![if !supportEmptyParas]> <![endif]>
Whirlwind
<![if !supportEmptyParas]> <![endif]>
Cló Iar-Chonnachta; 49 minutes; 2006
<![if !supportEmptyParas]> <![endif]>
---
<![if !supportEmptyParas]> <![endif]>
<![if !vml]>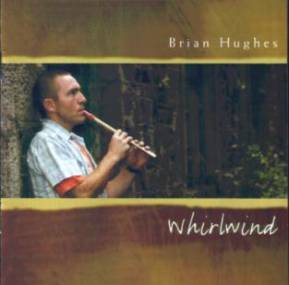 <![endif]>Is it really a decade since the Athy-born Brian Hughes released his debut solo album (Meascra/Whistle Stop, CEFCD 178)? Indeed it is, though the pictures in Whirlwind's liner booklet reveal that the ageing process has been kind to him, just as the now forty-year-old's whistling still retains the sprightly effervescence of youth.
<![if !supportEmptyParas]> <![endif]>
While Whistle Stop provided some delightful dance music and revealed Brian as a startlingly good slow airs player (skills restated in a gorgeous reading of Nóirín Ní Riain's on Whirlwind), his latest album will certainly divide listeners. There'll be those cherish the technical wizardry and sublime understanding inherent in tunes such as the reel An Chearc is a hÁl or the jig Paddy McMahon's, both replete with a flourish of variations, but others might find the almost unceasing accompaniment intrusive. True, Brian's picked some of the best in the business in Garry O'Briain (guitar, mandocello and keyboards), bassist James Blennerhasset, Brendan O'Regan (mandolin and bouzouki), Donnchadh Gough (bodhrán) and Bruno Staehelin (percussion), but on occasion they do threaten to overwhelm the whistler (though Donnchadh's drum seems often to be more of a pitter-patter than the deeply resonant instrument he employs with Danú). As an example, check The Rose in the Heather where all the accompanying strands are far too prominent in the mix. Fiddler/viola-player Nollaig Casey also appears on three tracks, but offers background counterpoint rather than sharing the lead.
<![if !supportEmptyParas]> <![endif]>
In comparison, Brendan O'Regan offers delightfully subtle accompaniment on a set of Kerry polkas with Garry O'Briain reinforcing the rhythm for the third of these, Babes in the Wood, with absolutely apposite piano work. The succeeding track, the reels Tuohy's/Man of Aran is less successful, largely because Bruno Staehelin's drumming is depressingly repetitive.
<![if !supportEmptyParas]> <![endif]>
So, all told, Whirlwind is a veritable parson's egg of an album and one that showcases a superb talent, but often dresses it in inappropriate sauces.
<![if !supportEmptyParas]> <![endif]>
Geoff Wallis
<![if !supportEmptyParas]> <![endif]>
July, 2007
<![if !supportEmptyParas]> <![endif]>
---
<![if !supportEmptyParas]> <![endif]>
Cló Iar-Chonnachta's website is www.cic.ie.
<![if !supportEmptyParas]> <![endif]>
---
<![if !supportEmptyParas]> <![endif]>
<![if !supportEmptyParas]> <![endif]>
---
<![if !supportEmptyParas]> <![endif]>
<![if !supportEmptyParas]> <![endif]>
<![if !supportEmptyParas]> <![endif]>
<![if !supportEmptyParas]> <![endif]>
<![if !supportEmptyParas]> <![endif]>
<![if !supportEmptyParas]> <![endif]>
<![if !supportEmptyParas]> <![endif]>
<![if !supportEmptyParas]> <![endif]>
<![if !supportEmptyParas]> <![endif]>