The Best of Irish Traditional Music
<![if !supportEmptyParas]> <![endif]>
Outlet CDFOLK 901; 2 CDs; 102 minutes; 1999
<![if !supportEmptyParas]> <![endif]>
Belfast's Outlet label was a prodigious producer of compilation albums, seemingly engaged in an eternal project to recycle its back catalogue through as many different releases as possible. Some of the results have been frankly forgettable (especially some of the folk song compilations), but The Best of Irish Traditional Music serves its purpose well as an excellent introduction to the label. However, it must be stated that the title of this collection is somewhat misleading since all the tracks are at least twenty years old and, of course, are limited to the label's own output. Still, as a sample of what traditional music sounded like in the 1970s, it is hard to beat and good value to boot. <![if !vml]>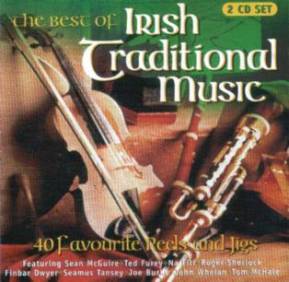 <![endif]>
<![if !supportEmptyParas]> <![endif]>
The first disc is organised formulaically with each musician or group allocated two tracks, one following the other. It is also top-heavy with accordions, the featured musicians including Finbarr Dwyer from County Cork, Kevin Loughlin from Fermanagh and Joe Burke from Galway. The last named also features on two tracks gleaned from his Two Champions album recorded with Seán McGuire who, in turn, dominates much of the remainder, appearing on four tracks (two with the Sligo flute-player Roger Sherlock). Other to grace this disc include the now almost forgotten Na Filí, a trio which was very popular in the 1970s and included in its ranks fiddler Matt Cranitch (now of Sliabh Notes) and the Seán Ryan Trio, while the closing two tracks are devoted to Séamus Tansey.
<![if !supportEmptyParas]> <![endif]>
Disc two is more varied and begins with a set of tunes from Dinny O'Brien and Family from Dublin whose numbers included a very young Michael on uilleann pipes. Another young musician to be featured on this disc is accordionist John Whelan, caught in the act at the age of fourteen. Kevin Loughlin pops up again in conjunction with fiddler John Gordon and pianist Mairéad McCann while other duos include fiddler Ted Furey with Brendan Byrne on bodhrán and Séamus Tansey and accordionist Joe Sheridan.
<![if !supportEmptyParas]> <![endif]>
Also present are a couple of tracks from fiddler Josephine Keegan, plus two from the original album entitled Cherish the Ladies, made by flute player Peg McGrath, fiddler Kathleen Smyth and pianist Mary Mulholland. There's also space for a pair from the Pride of Erin Céilí Band, led by Lawrence Nugent's father Seán and, lastly, from the fiddling brothers John and James Kelly.
<![if !supportEmptyParas]> <![endif]>
If you're interested in this particular era, then another Outlet double album compilation, Festival of Irish Traditional Music (CHCD 1037) might appeal. It features virtually the same musicians, though with many different tunes. However, the liner consists only of advertisements for other Outlet products.
<![if !supportEmptyParas]> <![endif]>
---
<![if !supportEmptyParas]> <![endif]>
This is an original review by Geoff Wallis.
<![if !supportEmptyParas]> <![endif]>
As Outlet is now defunct, this album may be difficult to track down.
<![if !supportEmptyParas]> <![endif]>
---
<![if !supportEmptyParas]> <![endif]>
<![if !supportEmptyParas]> <![endif]>