Breda Keville
<![if !supportEmptyParas]> <![endif]>
The Hop Down
<![if !supportEmptyParas]> <![endif]>
Own label BKCD205; 56 minutes; 2006
<![if !supportEmptyParas]> <![endif]>
Listening to this album for the first time raised the question whether any Irish woman fiddler has ever achieved pure recognition in her own right, a query reinforced by repeated hearings of Breda's delightfully rambunctious and soulful playing, appreciation of whose qualities is enhanced by the fact that the bulk of this 19-track album consists of solo recordings. Two others are fiddle duets with respectively her sister Claire, the regular Clare FM broadcaster, and that much underrated fellow Galway musician Liam Lewis. Indeed only three tracks are accompanied – very ably by guitarist Terence O'Reilly – one of which features Claire on concertina. <![if !vml]>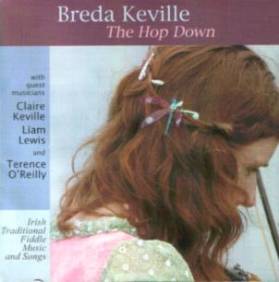 <![endif]>
<![if !supportEmptyParas]> <![endif]>
Perhaps Julia Clifford was always overshadowed by her brother Denis Murphy and Josephine Keegan could never match Seán McGuire's ebullient personality. Those migrants to the UK, Lucy Farr and Rose Murphy, only achieved renown in their own localities. In more modern times possibly only Mairéad Ní Mhaonaigh might be considered a fiddle 'star', but then most of her work has been centred upon Altan.
<![if !supportEmptyParas]> <![endif]>
Sidetracking for a moment, there are also relatively few albums of recent vintage featuring such a welter of unaccompanied fiddling (Malachy Bourke's solo album springs to mind as well as Caoimhín Ó Raghallaigh's teenage release) and none, so far, from a woman musician.
<![if !supportEmptyParas]> <![endif]>
All the above enhances the understanding that The Hop Down is a rather special album from a young musician clearly keen to set out her stall some distance from the encroaching herd. Ramification of this point is provided by the fact that Breda appreciates that some tunes should be allowed to glow in their own right rather than be subsumed within a session-style set, so listeners will find both Clancy's Jig and the title track itself (learnt from the playing of Rita Keane) sitting in splendid isolation from other melodies.
<![if !supportEmptyParas]> <![endif]>
A further Keane family element is present in the form of a gorgeous solo fiddle rendition of Sail Óg Rua and there are strong links to Paddy Fahey too via a set of three reels, each (of course) only bearing his name as a title, and his versions of The New Road and The Morning Mist. Other notable influences include the Galway fiddler Martin Byrnes and West Clare's Bobby Casey, as well as Paddy Canny from the county's east
<![if !supportEmptyParas]> <![endif]>
However, Breda clearly did not just drink deeply from the well of traditional knowledge, but has stamped her own personality upon the tunes she's derived from others. If in doubt, simply check the pairing of The Gallowglass and Kitty's Rambles, a gorgeously eloquent concoction which exemplifies her exceptional phrasing and sensitive bowing and somehow transcends to a height where all the melodic intricacies prove utterly captivating.
<![if !supportEmptyParas]> <![endif]>
As if this wonderful fiddling were not sufficient, Breda is also a notably adept singer. There are three examples of her charms on this album: a redolent rendition of The Cuckoo, often associated with Anne Briggs; a delicious outing for Blackwaterside, derived from the Paddy Tunney version; and, finally, an exquisite Bean an Fhír Rua which fully encapsulates the song's central motif of unrequited love.
<![if !supportEmptyParas]> <![endif]>
Musicians such as Breda Keville are few and far between and you'll be kicking yourself for a long time if you don't acquire this extraordinarily good album.
<![if !supportEmptyParas]> <![endif]>
Geoff Wallis
<![if !supportEmptyParas]> <![endif]>
4th March, 2008
<![if !supportEmptyParas]> <![endif]>
---
<![if !supportEmptyParas]> <![endif]>
Breda does not have a website, so check www.custysmusic.com or www.mulligan.ie for copies of her album.
<![if !supportEmptyParas]> <![endif]>
---
<![if !supportEmptyParas]> <![endif]>
<![if !supportEmptyParas]> <![endif]>