BEN LENNON AND TONY O'CONNELL
<![if !supportEmptyParas]> <![endif]>
Rossinver Braes
<![if !supportEmptyParas]> <![endif]>
Cló Iar-Chonnachta CICD 174; 47 minutes; 2008
<![if !supportEmptyParas]> <![endif]>
DAMIAN O'BRIEN AND OLIVER LOUGHLIN
<![if !supportEmptyParas]> <![endif]>
The Factory Turn
<![if !supportEmptyParas]> <![endif]>
Own label, no number; 46 minutes; 2007
<![if !supportEmptyParas]> <![endif]>
If proof were ever needed that advancing years and a diminution in natural ability do not necessarily share the same club card then look no further than Leitrim's Ben Lennon. Now enjoying his ninth decade and still playing, performing and teaching regularly, all of Ben's enduring ability and that essential inspirational element of Irish music (which Ben himself calls 'nya') are at the forefront of this rousing album. It certainly assists the Lennon cause that he's in cahoots with one of Ireland's finest concertina players, Limerick's Tony O'Connell (who previously recorded a stimulating eponymous duo album with another Leitrim fiddler, Andy Morrow, back in 2005). <![if !vml]>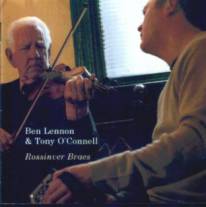 <![endif]>
<![if !supportEmptyParas]> <![endif]>
The album's title derives from a tune written by Ben's younger brother Charlie in honour of the village where Ben now resides (and Charlie, alongside Alec Finn on bouzouki and guitarist Jerry McNamara, proves his usual resolute self as a piano accompanist). Despite the fact that many of the tracks here are drawn from the repertoire of the renowned Sligo fiddlers Coleman, Morrison and Killoran (and there's nowt wrong with that), there's an essential effervescence in this pair's playing and a joyful concomitance that overrides any sense of familiarity. There's also the rarity of a splendid foxtrot (The Fiddler Mick Hoy from the pen of Fermanagh accordionist Jim McGrath), an unusual rendition of The Harvest Home hornpipe and, perhaps finest of all, a scintillating and perfectly syncopated coupling of the jigs Apples in Winter and The King of Pipes which illustrates just how delicious the sound of the fiddle and concertina combination can be when in the hands of maestros such as these.
<![if !supportEmptyParas]> <![endif]>
<![if !vml]>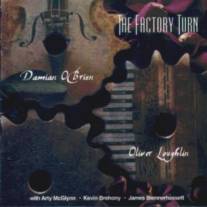 <![endif]>Also from Leitrim comes the fiddle/piano accordeon pairing of Damian O'Brien and Oliver Loughlin who were once part of the Sligo-based band Síona that recorded the album Launching the Boat back in 1998. The Factory Turn is a fiery and passionate affair played at sometimes excessive speeds which demand the best of accompanists Arty McGlynn (guitar), Kevin Brehony (piano) and James Blennerhasset (bass). Don't be deterred, however, for the playing here is sparklingly intelligent and replete with many a nuance. Their repertoire of tunes remains faithfully based on home territory and, amidst the whirl of jigs and reels, listeners will discover an endearing waltz in the shape of The Cherry Blossom and a spring-heeled couple of hornpipes, Lough Gill and The Locomotive.
<![if !supportEmptyParas]> <![endif]>
---
<![if !supportEmptyParas]> <![endif]>
Reviewed by Geoff Wallis for fRoots magazine – www.frootsmag.com.
<![if !supportEmptyParas]> <![endif]>
More information about Cló Iar-Chonnachta can be found at www.cic.ie.
<![if !supportEmptyParas]> <![endif]>
---
<![if !supportEmptyParas]> <![endif]>
<![if !supportEmptyParas]> <![endif]>
<![if !supportEmptyParas]> <![endif]>
<![if !supportEmptyParas]> <![endif]>
<![if !supportEmptyParas]> <![endif]>