Cara Dillon
Click on the title above to head straight to the review
---
Rough Trade RTRADECD019; 45 minutes; 2001
It's hard to believe that Cara Dillon has only just turned twenty-five, but, in reality, it was only 1989 when she won the All-Ireland singing title at the age of just fourteen and a year later formed the aptly-named Óige ("youth") with friends Murrough and Ruadhri O'Neill from her hometown of Dungiven, Co. Derry, and her brother-in-law Paul McLoughlin. Cara's elder sister is, of course, Mary Dillon of Déanta renown. Cara left Óige in 1995 to replace Kate Rusby in Equation, lasting just a year before heading off for pastures new with one of its founders, Sam Lakeman. <![if !vml]>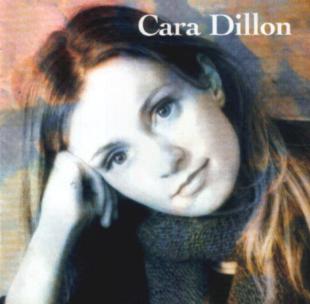 <![endif]>
Her self-titled debut is essentially a collaborative effort, since Sam not only plays piano, harmonium and organ, co-wrote two of the tracks with Cara, and co-arranged, recorded and produced the whole kit and caboodle. Why his name fails to appear on the cover is a mystery! Recorded in Devon and Donegal, the album features eight traditional songs, including such well-known ones as Black is the Colour and Green Grows the Laurel, but by no stretch of the imagination could it be called a traditional album. Cara grew up in the Irish tradition, and shares the same crystalline voice as her elder sister (who makes a welcome return here on harmony vocals). However, while not exactly nor thankfully acquiring any rock intonations, some of the elaborations and nuances which once featured in her singing (as for instance on The Flower of Magherally-o on Óige's Live album) have been smoothed away with the emphasis now firmly on purity of tone, though retaining the almost magical warmth which permeates both sisters' singing.
Equally, though always underpinning the melody, Cara and Sam's arrangements of the traditional material use instrumentation, with the exception of Luke Daniel's button accordion, more usually found in semi-acoustic rock bands with electric guitar, bass and drums often forward in the mix, the latter two especially on their self-penned Blue Mountain River. Nevertheless, just one listen of the Derry ballad, The Maid of Culmore, where Cara is simply accompanied by piano and violin, should be enough to convince anyone that here is a consummately-skilled singer equal to Karan Casey in stature, a view reinforced by her astounding rendition of I am a Youth that's Inclined to Ramble, the album's closing track.
So, while using predominantly traditional material, this is essentially one of those borderline albums, not rock, not even folk rock, but drawing upon different strengths to present an alternative take on the songs. It may not suit the taste of diehard traditionalists, but will undoubtedly take some much-loved songs to the ears of new listeners.
---
This review by Geoff Wallis originally appeared on the Musical Traditions site at www.mustrad.org.uk in 2001.
---
Rough Trade RTRADECD123; 55 minutes; 2003
Plenty has happened to Cara Dillon and husband Sam Lakeman over the last two years. A seemingly indefatigable touring schedule (usually accompanied by Sam's brother Seth on fiddle and viola and double bassist Ben Nicholls) honed their live act to such a dazzling degree of near-perfection that the memory of their performance lingers long (especially their concert during 2002's Return to Camden Town Festival where Colm O'Donnell and Gary Ó Briain provided an equally stunning first half). <![if !vml]>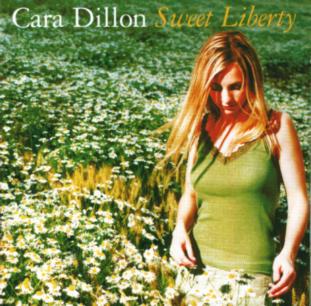 <![endif]>
Greater public awareness was attained via Cara's singing of the theme music to comedian Billy Connolly's recent BBC1 travelogue series and she headlined a major concert in October at the Waterfront Hall during this year's Belfast Festival at Queen's and around the same time was stepping into the shoes of Mairéad Ní Mhaonaigh with Altan while Mairéad was in a state of expectancy (many congratulations to Mairéad and Dermot on the birth of Nia!).
At around the same time Sweet Liberty hit the racks of your local record store. While the cover of the debut album saw a pastel-tinted Cara staring wistfully into the purchaser's eyes, every single photograph in the Sweet Liberty package shows her looking downwards whether walking through a field of marigolds or leaning against a stack of logs, appearing, it has to be said, rather miffed by something (maybe she had to chop them). Should anything be inferred from all this shoe-gazing or does such ratiocination progress into the realms of the Intentionalist Fallacy?
The answer is almost certainly a double-negative, but the fact cannot be ignored that Sweet Liberty is a far more reflective album than its self-titled predecessor. Where the latter leant heavily towards traditional material five of the newcomer's twelve songs have been jointly composed by Dillon and Lakeman (one with the assistance of Neil Bingham). The remaining seven include the aforementioned There Were Roses (written by Tommy Sands) and Standing on the Shore (from the pens of Johnny Moynihan and Terry Woods), tilting the balance seven to five in favour of contemporary material.
Those five traditional songs themselves provide interesting fodder. Two (The Winding River Roe and The Winding River Roe) hail from Cara's native county, the former even referring specifically to her birthplace:
Benbredagh's crown o'er Dungiven town
Is still within my view
<![if !supportEmptyParas]> <![endif]>
This is an emigrant's reminiscence song while The Gem of the Roe recounts the tale of said gem, Finvola, and her lover, a relationship forestalled by the gem's premature death. Bonny Bonny tells the story of a man forced to leave his beloved Nancy in County Antrim to fight for the English while Erin the Green is another Derry song of lost love. Add to this the closing track, The Emigrant's Farewell, and one begins to wonder whether Cara has begun to pine for home, but, of course, the song's second verse suggests a more plausible alternative:
<![if !supportEmptyParas]> <![endif]>
I'll think on its valleys with fond admiration
Though never again its bright hills will I see.
I'm bound for to cross the great swelling ocean
In search of fame and fortune and of sweet liberty
<![if !supportEmptyParas]> <![endif]>
Does all this reveal anything? Probably not, but it does tell us that Cara's traditional song preference leans towards the maudlin and the morbid with the exception of The Emigrant's Farewell. This song's delivery, by the way, following the introspection of Standing on the Shore, is delivered with increasing fervour, bolstered by the assistance of singers Liam O'Maonlaí and Cara's sister Mary.
<![if !supportEmptyParas]> <![endif]>
However, there's no doubt that such introspection forms the dominant mood elsewhere and, especially, in the songs penned by the twosome, particularly High Tide and Where Are You where the arrangements reinforce senses of departure and longing (and James O'Grady's uilleann pipes provide a stunning finale).
<![if !supportEmptyParas]> <![endif]>
Cara's voice throughout retains all its purity while Sam's piano work is often unnervingly sympathetic (as on Where Are You), but there's a sense at times that the emotions which lie at the core of certain songs has been undermined by an approach which seems at times timorous and, at others, rather over-eggs the pudding. For an example of the latter, head straight for the multi-layered super-saccharin harmonies on There Were Roses and the rather twee rendition of The Gem of the Roe.
<![if !supportEmptyParas]> <![endif]>
While Sweet Liberty could never seek to match the impact of the debut album, nevertheless its sheer depth and overriding intimacy offers repeated pleasure. The only question remaining is simple. Why doesn't Sam Lakeman receive equal billing?
---
This is an original review by Geoff Wallis.
More details about the Rough Trade label and its releases can be found at www.roughtraderecords.com.
---
<![if !supportEmptyParas]> <![endif]>