<![if !supportEmptyParas]> <![endif]>
Angelina Carberry & Martin Quinn
<![if !supportEmptyParas]> <![endif]>
Reeltrad Records RTR 001; 44 minutes; 2003
<![if !supportEmptyParas]> <![endif]>
This self-titled album has been available for a while in Ireland, but has only just acquired UK distribution, hence the delay in writing this review. In many ways the album represents both the very best and the very worst of Irish traditional music. Musically, it comes from the very top drawer, but the accompanying liner notes count amongst the most appalling ever published. <![if !vml]>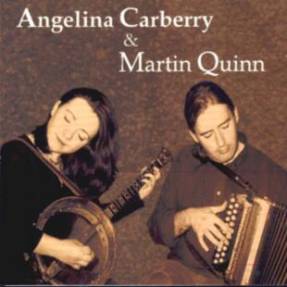 <![endif]>
<![if !supportEmptyParas]> <![endif]>
Both musicians should be familiar names to readers. Born in Manchester, Angelina Carberry is a member of the renowned musical family from County Longford and recorded the splendid Memories from the Holla with her father (accordionist Peter) and guitarist John Blake (who also provides guitar backing for this new album). Martin Quinn is an accordionist from County Armagh and a member of Dórsa (formerly Na Dórsa, whose only album to date is The Wild Music of the Gael). Together, and with the assistance of John and another guitarist, Alan McCartney, they create a most pleasant sound indeed. As Memories from the Holla fully demonstrated, there is something inherently captivating about the combined sound of the banjo and the accordion and there is a sublime synchronicity evident in the combination of Angelina and Martin's playing (not, on reflection, unsurprising since the pair are actually married to each other, a situation which always offers plenty of opportunity for musical rehearsal).
<![if !supportEmptyParas]> <![endif]>
There is also a wonderfully economical sway to their playing which is certainly not to say that either Angelina or Martin is parsimonious when it comes to ornamentation (indeed the former is very fond of a crisp triplet). Rather, the case is that the pair fall firmly into that modern grouping of players (of whom Harry Bradley and Mícheál Ó Raghallaigh spring immediately to mind) who progress their music by reference to the past. Indeed, that past includes sources such as the O'Neill collection, Breandán Breathnach's Ceol Rince na hÉireann, Séamus Ennis, Paddy Fahy, Paddy Carty and Finbarr Dwyer.
<![if !supportEmptyParas]> <![endif]>
That synchronicity referred to earlier is no better exemplified than by a superb set of hornpipes, Murphy's and The Fair Haired Girl, the latter giving the constant impression of acceleration, but one in which the musicians clearly have control of the wheel. Angelina's playing is solid as a rock throughout this album, though by no means as stolid, but, while matching her adroitness, Martin shines on an atmospheric solo reading of the air to Aililiú na Gamhna. Contrastingly, the couple's rendition of Finbarr Dwyer's Reels is sprightliness incarnate. All told, in fact, the music here is some of the most joyful to meet these jaundiced ears for some time.
<![if !supportEmptyParas]> <![endif]>
However, there is a caveat. As earlier mentioned, the liner notes are exceptionally poor. There is evidence that they have been proofread in the form of the handwritten insertion of the fada at various points, though not all essential ones, but nobody appears to have checked either the spelling or the grammar. Thus we are presented with such delights as a tune apparently called Con Curtain's Big Baloon (that should be Curtin, for anyone not familiar with the former London publican's name), the belief that James Goodman was a 'Cannon' and that Neillidh Boyle came from 'Glentie's' (actually, Dungloe). Sporting Nell becomes Sporting Nellie and there is supposedly a tune in the Mulvihill collection called Burnes Reel. Then there's the somewhat bizarre alteration of Colonel McBain to 'Col Mc Bain'.
<![if !supportEmptyParas]> <![endif]>
No doubt some might find these comments pedantically punctilious but I firmly believe they would be wrong to think so. Liner notes enter the historical vernacular on publication and it does future students of the music no favour to be told that Maloney's Wife 'is a tune that pops up in various guises' (why not provide examples?) or by extending the seemingly lifelong misprinting of Finbarr Dwyer's name. That last point might seem petty, but if Finbarr's parents chose to give him an extra 'r', then so should the rest of us!
<![if !supportEmptyParas]> <![endif]>
Geoff Wallis
<![if !supportEmptyParas]> <![endif]>
12th October, 2004
<![if !supportEmptyParas]> <![endif]>
---
<![if !supportEmptyParas]> <![endif]>
The Carberry/Quinn website is www.reeltrad.com and the album is distributed in the UK by Copperplate.
<![if !supportEmptyParas]> <![endif]>
---
<![if !supportEmptyParas]> <![endif]>
<![if !supportEmptyParas]> <![endif]>