Coilín Conneely
<![if !supportEmptyParas]> <![endif]>
The Last Irishman
<![if !supportEmptyParas]> <![endif]>
Sound Records SUN CD48; 51 minutes; 2003
<![if !supportEmptyParas]> <![endif]>
<![if !supportEmptyParas]> <![endif]>
There are many albums in the history of any musical genre that should have been recorded and also, alas, very many more which should never have been released. Unfortunately, this latter category includes The Last Irishman, one of the worst albums of unaccompanied singing to have been issued in Ireland's long recording history. <![if !vml]>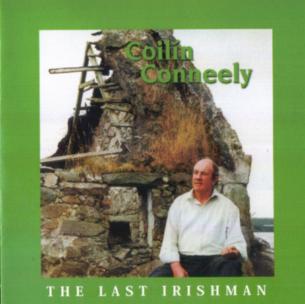 <![endif]>
<![if !supportEmptyParas]> <![endif]>
Coilín Conneely hails from Derrynea in Connemara and has actually won the sean-nós competition at An tOireachtas on two occasions, 1971 and 1995. He has also released two previous albums under the Irish version of his name, Cóilín Ó Confhaola, Seal ag Tarraingt Fheamaine (the very first Cló Iar-Chonnachta release) and the later The Lark in the Morning, but something seems to have gone seriously wrong with his singing in the interim period. The exceptionally brief liner notes for The Last Irishman (an unfortunately repeated failing on the part of Sligo's Sound Records) describes his birthplace and the singer thus:
<![if !supportEmptyParas]> <![endif]>
A beautiful and healthy place where Coilín sings and lilts like the ripples in the rock pools, ripples in the sand dunes, all rolling into Connemara.
<![if !supportEmptyParas]> <![endif]>
If only that were true, but, Coilín sings like a man straining to maintain a tune and lilts as if distracted by events outside his window. The songs in English are unquestionably the worst, the nadir being plumbed by The Three Coloured Ribbon, better known, thanks to Steeleye Span, as All Around My Hat, where Coilín sounds about as interested in his "true love" as a young woman faced by a fifty-year career in double-glazing telesales. On The Wild Rover (one of the most over-recorded songs in Irish musical history) he seems as "wild" and as roving as a cat in a house full of dogs, transforming the song into a uniquely uninspiring dirge. The Rare Old Mountain Dew at least smacks partly of a paean to poteen, but his version of Down by the Sally Gardens (probably the most over-recorded song in Irish musical history) seems like he's just given up hope!
<![if !supportEmptyParas]> <![endif]>
The songs in Irish are little better. Connemara is famed for the expressive intonation and elaboration of its sean-nós singers, but, on songs such as Máire Ní Griofa or Ailliliú na Gamhna, Conneely is about as expressive as a hunk of bog-oak while Fáth Mo Buartha plumbs new depths of tunelessness.
<![if !supportEmptyParas]> <![endif]>
And then there are the lilts – all seven of them. One or two lilts on an album might be attractive, but seven seems like monomania and, by the time the listener has reached track nineteen, utter pointlessness. Astonishingly too, this is probably the first album of unaccompanied song to feature a hidden track, where Coilín tells us some exciting things about Derrynea, including that it's "a great place for very big rocks" and that it's an ideal place for going somewhere else!" Take his advice and go somewhere else rather than listen to this appalling, dreadful album!
<![if !supportEmptyParas]> <![endif]>
---
<![if !supportEmptyParas]> <![endif]>
This is an original review by Geoff Wallis.
<![if !supportEmptyParas]> <![endif]>
If you really do want to know more about Sound Records, their website is www.record-room.com/.
<![if !supportEmptyParas]> <![endif]>
---
<![if !supportEmptyParas]> <![endif]>