Céide
Like a Wild Thing
<![if !supportEmptyParas]> <![endif]>
Out of Their Shell
---
Like a Wild Thing
Own label - no number; 57 minutes; 2002
Back in the days when he had more money than sense, a certain friend of mine would gouge additional grooves into records to ensure, as a consequence, that those tracks he disliked were skipped by the needle. Of course, when he later had more sense than money, he found himself with a heap of unsellable vinyl and regularly being sneered at by Nottingham's own especially surly brand of secondhand record shop assistants. In subsequent years I sometimes wondered whether the advent of the compact disc player and its programmable facilities had been invented with him in my mind for, certainly, his fingers would be fiddling with the remote control's buttons to erase certain tracks from this debut album by Céide to create his own preferred version.
In an interview in The Journal of Music in Ireland (Vol. 2, No. 2), the Cork singer Jimmy Crowley railed against the encroachment of 'mid-Atlanticisms' into Ireland's music:
You see this a lot in younger people, I'm afraid. If someone from Kerry, say, sings an Irish song in an LA accent, that's the end of my interest. But if it's a Kentuckian singing in a Kentucky accent, that's great, of course. I'd criticise some singer/songwriters for these American accents. There's no worth in this mid-Atlantic stuff, they haven't been true to their culture, to the land they're living in. Often too, the songs aren't saying anything either.
There are many exceptions (for example, Danú, Altan, Dervish, Providence etc.) where singers have remained true to their roots and, importantly, their voices, but also far too many cases where songs from other genres are interpolated into the band's repertoire and delivered in the kind of accent that Jimmy despises.
As such, it is questionable whether Mr. Crowley would be especially enamoured with Céide's album Like a Wild Thing and, especially, the band's singer, Declan Askin, who has three outings of variable worth on the album. The first is John Martyn's John the Baptist from the 1970 album Stormbringer recorded with his wife Beverley. In the Martyns' hands, the song was an epic with the contrast between the pair's voices and the subtlety of the arrangement highlighting the latent violence of the relationship depicted in the lyrics. While noting that Scullion also recorded the song in 1979, Céide inform us that "To improve on such history is very difficult, if not impossible, but we have tried to give the piece a contemporary groove, while highlighting the song's unusual lyrics'. Actually, they've turned it into a jaunty little singalong with Askin's mid-Atlantic drone and quasi-rock singer intonations to the fore, thereby losing any of the song's quirky impact.
<![if !vml]>
<![endif]>Next up comes the title track, written by a County Mayo man, Tony Reidy, a song about the economic exigencies of a small farmer forced "To make a living I must sit at a chair, sit at a chair and stare at a screen". This is far more successful and entirely because Declan forsakes any extraneous accents and sings in his own voice.
Lastly, however, comes a rendition so horrific that the album case should carry a warning sticker, a song interpreted so terribly that it makes Dessie O'Halloran sound like Christy Moore. The song in question is Lyle Lovett's If I Had a Boat. Céide's notes state that their "arrangement, while deviating quite considerably from the original still shows what a talent Lyle is". It certainly does, but not in the way the band intended. Askin sings as though he's auditioning for a biopic of Michael Bolton, albeit while suffering from a hernia and, as a consequence, manages to miss all the ironic humour of Lovett's lyrics.
The question is ultimately, of course, why a band based in Mayo should want to sing about Roy Rogers, Trigger, the Lone Ranger and Tonto (as Lyle understandably might) rather than about their own childhoods or locality (wherein lies part of the success of Like a Wild Thing).
If this was not bad enough, Céide have employed one of modern musical technology's most irksome innovations, the hidden track. Islay Rant, though included in the track listings, appears several minutes after its predecessor. The novelty of this device has worn thinner than a cigarette paper.
There is one further feature of Céide which may irritate some - the presence of a double bass player, one Kevin Doherty. In the Crowley interview quoted earlier, Jimmy also attacked what he sees as the increasing commercialism of Irish music:
One result is that it's getting bland, and Ireland was never bland. Much of it sounds boring to me, too many not-very-good clones of the Bothy Band.
To this I would add a new phenomenon, the sub-Lúnasa clone and one that is likely to reappear thanks to the sales of their last album, The Merry Sisters of Fate, and its subsequent critical acclaim in the USA. Like a Wild Thing's opening track, yet another version of The Bucks of Oranmore, simply sounds too close to Lúnasa for comfort (albeit there's accordion instead of pipes, but the bass drone gives the game away and elsewhere Céide employs some of Lúnasa's trademark rhythmic shifts).
That being said other parts of Like a Wild Thing are at times excellent and often delightful. The best moments feature the flute and low whistles of Brian Lennon, a member of the prominent musical family from Leitrim (he is the son of Ben, the fiddler) and one of the most lyrical players around. Equally, Tom Doherty is no mean accordion and melodeon player and well to the fore on a set of jigs kick-started by The Woods of Old Limerick. Fiddler John McHugh, however, hardly gets a look in until the very last track (not the hidden one!) where his rendition of the slow jig The Pullet that Wants the Cock has all the kind of lugubrious qualities that make you check his photograph for signs of a pension book.
---
Out of Their Shell
Own label – CCD 002; 56 minutes; 2005
Oh, what a difference the years can make and, equally, what a change can result from the injection of new talent and the employment of a producer as talented as Séamie O'Dowd! From its opening moments, in the form of the vivacious jig Oró bog Hom i, the clarity of sound and the sheer balance of Séamie's efforts are immediately apparent. The upshot is that Céide have turned that old rock cliché, 'the difficult second album', bonce downwards and delivered a gem of a CD in the process. <![if !vml]>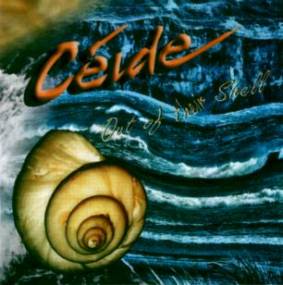 <![endif]>
However, it's not just their producer's efforts (and Séamie also appears on acoustic and electric guitars, dobro, bodhrán and fiddle), but the sheer fact that Céide really have emerged from their shell. The quality of the band's musicianship was ever apparent on Like a Wild Thing, but all those years of sessions at Matt Molloy's in Westport have enhanced their standing as an ensemble and given Céide the encouragement to drive onwards and explore their collective imagination. Such is instantly visible in the shape of a completely new take provided by a phalanx of whistles on Charlie Lennon's Wedding March (from his Island Wedding suite) which segues very naturally into accordionist Tom Doherty's leading role on another piece by Charlie, Planxty Joe Burke.
Such innovation becomes even more apparent on the succeeding track, Bold Donnelly, often associated with the late Louth-born singer Mary Ann Carolan. That new talent referenced above is the singer Marianne Knight who has already made her mark on this listener's ears via a resonant reading of the Bill Caddick song, the album's second track, John O' Dreams (which the band associate with Christy Moore, though perhaps Seán Tyrrell's version might be more familiar to some readers). Marianne has a splendidly powerful voice and one very capable of exploring the emotional elements of her songs. Yet her interpretation of Bold Donnelly might surprise some. To a syncopated backing of Kevin Doherty's double bass, Declan Askin's guitar and Tom Doherty's snare drum, Marianne embarks on a jazzy interpretation which utterly reinvigorates the song, captures to perfection its changes in mood and is a sublime reinvention of a traditional 'classic' which, for all its modernity, somehow remains true in spirit. Marianne also adds her own apposite flute motifs to the backing while Tom's accordion seems to be heading onwards to oblivion in the instrumental break.
Her two other songs on Out of Their Shell include the far more wistful Man in the Moon, written by Bill Dickson and Kathy Stewart and recorded by Andy M. Stewart on his album of the same. Sung to simple, but intertwining guitarwork by Declan and Séamie, it's a mesmerising effort. Contrastingly, Declan's own song Western Waves, the tale of a lover mourning her man drowned at sea, is utterly captivating in its intensity.
Add to all this is an enchanting rendition of the Carolan air Captain O'Kane with Tom's accordion and Brian Lennon's low whistle and flute well to the fore and a gorgeous set of polkas which sees those two musicians united with John McHugh's vibrant fiddle and it becomes evident that the three melodic lead instrumentalists really are a force to be reckoned with. Indeed, the work of Brian, John and Tom throughout the album is markedly effective.
If there is a fault, then it probably lies in Pikeman's march. Perhaps it's because the tune has become hackneyed via over-familiarity or simply because its innate jauntiness is one amenable to strummed guitar and booming bass, though its successor, Tom Mac's Polka is far more fetching. Contrarily, the set of reels entitled Come Up to the Room I Want Ye (with Tom on melodeon) is a rousing tour de force, features pulsating unison playing from the three leads and offers a comfortable abode for said bass and guitar.
In conclusion, Out of Their Shell is the most striking album to be released by an Irish traditional band for some years and absolutely worth investigation.
21st April, 2006
---
<![if !supportEmptyParas]> <![endif]>
The first review by Geoff Wallis was originally written for Musical Traditions - www.mustrad.org.uk – and the second is an original piece for The Irish Music Review.
<![if !supportEmptyParas]> <![endif]>
For more information about the band visit www.ceide.net.
This CD is distributed in the UK by Copperplate - www.cooperplatemailorder.com.
---