Celtic: A Comprehensive Guide to Celtic Music
<![if !supportEmptyParas]> <![endif]>
Moonroller No Excuses Guides ISMN M 708044 03 1/ISBN 1-904771-04-1; 2004
It's certainly difficult to know what to make of an interactive CD-ROM which rightly asserts that 'There is no such thing as Celtic music!!!', then proceeds to utilize this phrase at every possible opportunity and applies the 'C' word throughout in true scattergun fashion. <![if !vml]>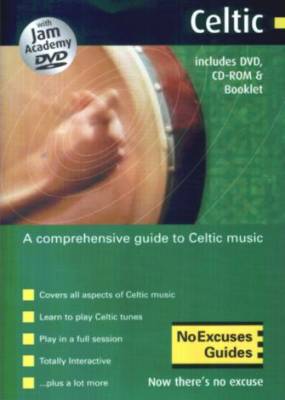 <![endif]>
<![if !supportEmptyParas]> <![endif]>
Its aim is to introduce the music of the 'Celtic regions' and offer basic tuition tips, assisted by an equally interactive DVD which allows the budding player to participate in a session. Although both are slickly designed and orientation is easy, the package has a heavy Irish bias. Virtually all the session tunes, for instance, are Irish and even one of the Scottish tunes, The Laird of Drumblair, is often associated with the Donegal fiddler Tommy Peoples. So, anyone looking to learn some Galician, Cornish or Welsh tunes should definitely look elsewhere.
<![if !supportEmptyParas]> <![endif]>
One successful interactive element is the CD-ROM's mixing desk which allows the ingénue flute player, say, to remove the disc's instrumentalist from the mix and play along instead. Unfortunately, the DVD's version sees the extracted musician being physically extricated from the session (and the sight of Uiscedwr's female fiddler being toted away over somebody's shoulder does become particularly wearing).
<![if !supportEmptyParas]> <![endif]>
The CD-ROM's best section covers instruments (though this reviewer has yet to see a 'Celtic bass' at a session), but its attempt to provide brief biographies of prominent musicians and singers shows a remarkable ability to paraphrase sections from both Backbeat's Celtic Music and my own and Sue Wilson's The Rough Guide to Irish Music. One of the few pleasures of reviewing this package lay in spotting how the original text had been transformed and, in some cases, garbled. Be warned, however, for the discographical entries are hopelessly dated, errors abound, and many musicians and bands that have become well-known over the last five years or so are notably absent.
<![if !supportEmptyParas]> <![endif]>
Overall, of course, the premise is flawed. Nobody, I hope, actually wants to become a 'Celtic musician', but many are interested in learning more about particular traditions and, possibly, participating in their music. So, don't be tempted by this, but look instead for something more direct, more specialist and, ultimately, far more rewarding.
---
<![if !supportEmptyParas]> <![endif]>
This review by Geoff Wallis originally appeared in Songlines magazine – www.songlines.co.uk.
<![if !supportEmptyParas]> <![endif]>
For more information about the publisher visit www.noexcusesguides.com.
<![if !supportEmptyParas]> <![endif]>
---
<![if !supportEmptyParas]> <![endif]>
<![if !supportEmptyParas]> <![endif]>