Celtic Music
Edited by Kenny Mathieson
Backbeat Books, paperback, 2001, 192 pages
A conjectural concept at the best of times and a spurious marketing ploy at worst, the idea of a commonality in the music of the various countries, regions and islands defined as 'Celtic' demands some from of cogent analysis. Unfortunately, this ill-conceived book lacks such ambitions but is divided into almost hermetic chapters written by different contributors and focusing on Ireland, Scotland, Cape Breton, Brittany, Spain and Portugal, and a conglomerate featuring Wales, the Isle of Man and England. Each chapter is then further sub-divided into sections concentrating on singers, instrumentalists (categorised by their instrument) and bands, an organisational system which entails regular repetition of material.<![if !vml]>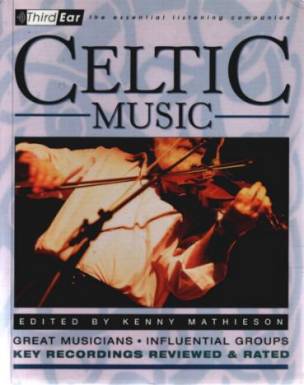 <![endif]>
This isn't a parson's egg of a book, but an ecclesiastical battery farm. Some chapters contain exceptionally valuable information, such as Andrew Cronshaw's eloquent comprehensive account of the traditional music of Northern Spain and Portugal (curiously called 'Celtic Iberia' here), or Jim Gilchrist's succinct survey of developments in Scotland. However, elsewhere, in contrast, Celtic Music is simply abominable and, indeed, the main culprit is the book's editor and major contributor, Kenny Mathieson. Nowhere is this more evident than in his turgidly written, shoddily researched and error-strewn opening chapter on Ireland.
Anyone failing to note his introductory comment that "this is not a book about traditional music" would be alarmed to discover that Mathieson devotes a mere two paragraphs to sean-nós (unaccompanied singing in Irish), refers to just two examples of traditional singers in English (Joe Holmes and Len Graham) and fails to include a single album of either form in his section of 'recommended records'. Even more alarmingly, those who did read his definition of the book's focus as "the remarkable revival of interest and subsequent expansion of musical boundaries in traditional, folk and Celtic music that took place from the 1960s onwards" will be shocked by the scant coverage of The Clancy Brothers (minus even mention of Tommy Makem) and The Dubliners while Van Morrison (who has espoused a 'Celtic' philosophy more than most) receives a mere three lines.
Errors abound and some are so startling that one wonders where exactly Mathieson conducted his research. Apart from believing that Sarah Keane is Dolores Keane's sister (she's her aunt), that Joe Derrane pioneered the outside-in method of playing the B/C accordion (he plays the push-and-draw style on a C#/D); that John J. Kimmel did not record in the USA (he did); that the singer Aoife, whom Mathieson misspells (alongside Niamh Parsons, and Shane MacGowan) comes from the same village as Clannad (she doesn't); that Christy Moore left Moving Hearts in 1978 (a date prior to the band's formation!), though his most astonishing claim is that John McKenna (d.1947) and Paddy Taylor (d.1976) are "elder statesman" among "current performers" playing the flute. Apart from the insult to the memory of both, anyone who calls a traditional musician a "performer" and also believes that Michael Flatley is "an excellent player of the traditional flute" has thoroughly lost the plot.
The extent to which this is the case is revealed by Mathieson's deplorable section on the fiddle where he repeats the myth that highlands and strathspeys are only found in Donegal when they are much more widespread; reveals a poor understanding of tune structure; states unequivocally that the pub session "originated among Irish musicians working in London after World War Two" (a debatable point); writes of Paddy Canny, Peadar O'Loughlin, Andrew Davey and Proínsias Ó Maonaigh as though they were dead [and. sadly, both the last two mentioned passed away in 2005 and 2006 respectively. Ed.]; devotes a mere 12 lines to one of Ireland's greatest fiddlers, Tommy Peoples, even omitting to mention his latest album, while allowing the ham-fisted jazz doodlings of Eileen Ivers to take up 24; writes erroneously that Paddy Glackin "hails from Dungloe" (he was born and brought up in Dublin); describes the late Seán Reid as a fiddler, which he was, but he was also predominantly known for his uilleann piping; describes Paddy Glackin's In Full Spate as being made "with his brothers" when they appear on only one track; states that Frankie Gavin's Omós do Joe Cooley is a solo album (which would be news to accordionist Paul Brock); misspells Maire Breatnach; reaches the stunning conclusion that the two Trian albums are "both good, and well worth hearing" (pithy analysis there); bundles Matt Cranitch together with emerging fiddlers when he's been around since the early 1970s; and, unforgivably, devotes just two words to the great Donegal fiddler John Doherty (his name).
Mathieson's other chapters are frankly just as bad. Readers wishing to learn anything about Manx or Cornish music will be thoroughly disappointed by their scant coverage. For instance, Mathieson tells us that Emma Christian's music is "rooted in Manx traditions", but does not reveal what any of these are. Cornish music receives just one paragraph while the Northumbrian tradition (which oddly here includes Karen Tweed from Luton!) is dismissed in a sentence despite the influence of Scots music and Irish emigrants on the region.
Celtic Music's cover features The Dubliners' fiddler, John Sheahan, minus the top half of his head - a telling foretaste of much of this book's contents.
---
A much abbreviated version of this review by Geoff Wallis originally appeared in Songlines.
---
<![if !supportEmptyParas]> <![endif]>