The Chieftains
<![if !supportEmptyParas]> <![endif]>
Water from the Well
<![if !supportEmptyParas]> <![endif]>
RCA Victor 09026 63637 2; 63 minutes; 2000
<![if !supportEmptyParas]> <![endif]>
<![if !vml]>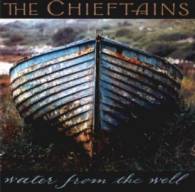 <![endif]>Breathe easy! After 6 long years and numerous dodgy collaborative albums with rock stars such as Sting and Mark Knopfler, Ireland's best-known 'musical ambassadors' are back with a traditional album. And right from the jaunty intro of the opening track, Lots of Drops of Brandy, you know that they've returned to top form. The rest is an Irish musical journey of rediscovery. Starting off in Dublin with a street song and then Dubliners banjo-player Barney McKenna, they head to Kerry and enlist ace singer and box-player Séamus Begley, pop into Clare for the Kilfenora Céilí Band and fiddler Tommy Peoples, and nip into Matt Molloy's own Westport pub for a session before meeting up with Altan in Donegal.
<![if !supportEmptyParas]> <![endif]>
And that's only part of it! As ever the ensemble playing is as tight as a tourniquet, but The Chieftains haven't sounded this carefree since Irish Heartbeat and manage to embrace both the styles and spirit of the music with a dexterity denied to others.
---
<![if !supportEmptyParas]> <![endif]>
This snippet of a review by Geoff Wallis was originally written for a long defunct website collaboration between The Rough Guides and Amazon, hence the somewhat breathy style.
<![if !supportEmptyParas]> <![endif]>
---