CATHERINE McEVOY
<![if !supportEmptyParas]> <![endif]>
The Home Ruler
<![if !supportEmptyParas]> <![endif]>
Cló Iar-Chonnachta CICD 172; 50 minutes; 2008
<![if !supportEmptyParas]> <![endif]>
Long renowned amongst Irish musicians as one of the best flute players around, Catherine McEvoy has yet to break into the wider public consciousness, and more's the pity. Technically as adept as they come, Catherine's music also encapsulates that distinctive 'nya', 'draoicht' or what-have-you, which instantly sets her apart from the majority of other purveyors of the holey wooden tube (in this case keyed versions in D, Eb and C). <![if !vml]>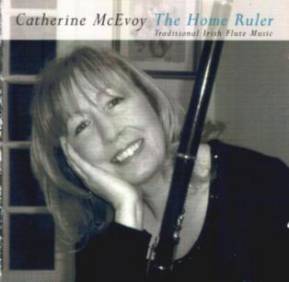 <![endif]>
<![if !supportEmptyParas]> <![endif]>
The Home Ruler is her first solo album since 1996's Traditional Flute Music in the Sligo-Roscommon style and, by the by, its title has nothing to do with Parnell or any other 19th century Irish Nationalist, but comes from a tune composed by Frank McCallum of Co. Antrim in honour of his wife's domestic supremacy. Backed by two of the finest piano accompanists around (Felix Dolan and Geraldine Cotter), as well as Steve Cooney in some of his most whimsical guitar moments, and (hallelujah!) an actual sensitive bodhránista in the shape of Joe Kennedy, Catherine comes fully equipped to produce a range of stunning fluted music. The best of which is probably a rolling and rollicking rendition of the slip jig Elizabeth Kelly's Favourite, though the air Bánchnoic Éireann Ó pushes close for gold. If the album has a weakness it lies in the number of similar sounding reels, backed by similar sounding piano, but that's a minor quibble.
<![if !supportEmptyParas]> <![endif]>
---
<![if !supportEmptyParas]> <![endif]>
Reviewed by Geoff Wallis for fRoots magazine – www.frootsmag.com.
<![if !supportEmptyParas]> <![endif]>
More information about Cló Iar-Chonnachta can be found at www.cic.ie.
<![if !supportEmptyParas]> <![endif]>
---
<![if !supportEmptyParas]> <![endif]>
<![if !supportEmptyParas]> <![endif]>
<![if !supportEmptyParas]> <![endif]>
<![if !supportEmptyParas]> <![endif]>
<![if !supportEmptyParas]> <![endif]>