Christy Moore with Declan Sinnott
<![if !supportEmptyParas]> <![endif]>
Live in Dublin 2006
<![if !supportEmptyParas]> <![endif]>
Columbia 828768 27772; 2 CDs; 132 minutes; 2006
<![if !supportEmptyParas]> <![endif]>
Ireland's favourite balladeer seems to have entered recording hyperdrive of late, releasing Burning Times in 2005 and the mammoth 6-disc Box Set in the previous year. Indeed, this new double set is actually his fourth live collection, though entirely different in mood and approach to 1994's often raucous Live at The Point. <![if !vml]>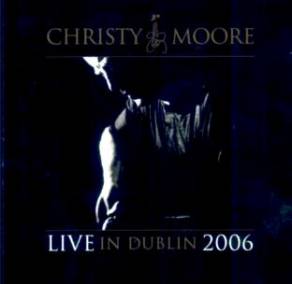 <![endif]>
<![if !supportEmptyParas]> <![endif]>
That Dublin venue might be the same as that utilised for this new live set, but one major difference is that this is no solo outing since Moore's old mucker from Moving Hearts Declan Sinnott is also present, providing an assortment of electric and acoustic guitars and even getting his own vocal spot on Corinna Corinna.
<![if !supportEmptyParas]> <![endif]>
The album's thirty-two tracks stretch across the forty years of Christy's career and, as he notes himself, 'some were well rehearsed while others were more of the moment'. Confidence oozes from Moore's pores and Sinnott provides a more than capable foil, but (apart from the latter's guitarwork) there's little new here. The abiding sensation is of a powerful singer able to draw from a phenomenally extensive back catalogue and retain the ability to explore a song's lyrics no matter how many times he's sung it before (and aficionados of Moore will already possess most of the songs performed here).
<![if !supportEmptyParas]> <![endif]>
The mood is generally relaxed, though Christy certainly lets rip on 'Faithful Departed'. As ever, the man's a master at dealing with hecklers – when someone calls for 'Nancy Whiskey' he retorts 'You probably haven't noticed, but we've got another one started'.
<![if !supportEmptyParas]> <![endif]>
Overall, it's a grand souvenir for anyone lucky enough to witness recent concerts, and if you weren't there, the same titled DVD (Columbia 828768 27789) will show you what you were missing (though don't expect much excitement from the sight of two middle-aged musicians remaining seated throughout the gig). If you want to hear Moore in all his pomp and prime head for Live at The Point instead.
<![if !supportEmptyParas]> <![endif]>
---
<![if !supportEmptyParas]> <![endif]>
This review by Geoff Wallis originally appeared in Songlines magazine  – www.songlines.co.uk.
<![if !supportEmptyParas]> <![endif]>
---
<![if !supportEmptyParas]> <![endif]>
<![if !supportEmptyParas]> <![endif]>
<![if !supportEmptyParas]> <![endif]>
<![if !supportEmptyParas]> <![endif]>