The Cobblestone Sessions
<![if !supportEmptyParas]> <![endif]>
Own label COB 001; 66 minutes; 2002
<![if !supportEmptyParas]> <![endif]>
Everyone has their own favourite memories of nights spent at The Cobblestone, that wonderful traditional music bar on Dublin's North King Street which opened its doors in 1996 and has been hosting a session virtually every evening since (and many afternoons too). My own includes the night when a constant stream of flute-players poured through the door as if some geneticist genius has positioned a musical cloning machine outside. Sadly, that evening of lung-bursting delights has not been replicated for this musically-packed collection of recordings made over three days in the bar during June 2002 by the mandolin wizard Paul Kelly with the backing of The Cobblestone's host, Tom Mulligan.
<![if !supportEmptyParas]> <![endif]>
<![if !vml]>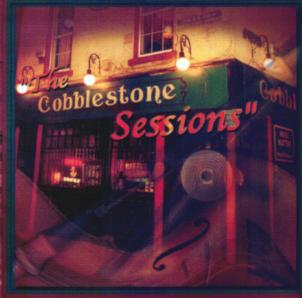 <![endif]>Nevertheless, there are plenty of gems within more than an hour of glorious music and song collated here, where the experience and adeptness of musicians such as the fiddler Vincent Harrison and the accordionist Oliver Farrelly stands proud amongst the wealth of expert younger musicians represented, including piper Donnacha Dwyer and fiddler Michelle O'Brien. Harrison's stupendous solo performance of the hornpipes Tom Hill's and Ollie's Delight is one of the highlights of this album, alongside his collaboration in a set of reels with Farrelly, Peter O'Grady's flute and the fiddles of Mick O'Grady and Edel McWeeney (who many will remember from the women's band Macalla).
<![if !supportEmptyParas]> <![endif]>
There are pipers in abundance too with virtuosity demonstrated by the likes of Tommy Martin, Eoghan Garvey and Cormac Cannon, plus, of course, the landlord's brother, Néillidh Mulligan, who closes proceedings with Ceol An Dorais (whose ending is quickly followed by the sound of the pub's door firmly shutting for the night.)
<![if !supportEmptyParas]> <![endif]>
Sadly, however, appreciation of some of the song's is diminished by the pub's background noise (chatter, bottles clinking and the like) which is far too prominent on Mick O'Grady's Caroline of Edinburgh Town, but, thankfully, fails to mar another of the album's standout points, Seán Garvey's eloquent singing of An Goirtín Eoman. Despite this, each playing delivers new discoveries, making this a superb recording of both a time and a place and offering listeners the chance to create their own personal lock-in at home (unfortunately, without The Cobblestone's splendid Maeve's Bitter).
<![if !supportEmptyParas]> <![endif]>
---
<![if !supportEmptyParas]> <![endif]>
This review by Geoff Wallis was originally written for Irish Music magazine (which contrived to misspell Edel McWeeney's name making the reference to Macalla entirely pointless!).
<![if !supportEmptyParas]> <![endif]>
For more information about The Cobblestone visit  www.cobblestonedublin.com.
<![if !supportEmptyParas]> <![endif]>
---
<![if !supportEmptyParas]> <![endif]>
<![if !supportEmptyParas]> <![endif]>