Cyril O'Donoghue
<![if !supportEmptyParas]> <![endif]>
Nothing But a Child
<![if !supportEmptyParas]> <![endif]>
Own label – CD 001 COD; 68 minutes; 2003
<![if !supportEmptyParas]> <![endif]>
Anyone who has visited Ennis over the last twenty years or so will almost certainly have come across Cyril O'Donoghue, for the guitarist, bouzouki player and singer is a prominent feature in the town and Clare's traditional music scene. A long-standing member of Fisher Street (when will they release another album?), Cyril also played a prominent part in Damp in the Attic, while his C.V. includes playing support to Christy Moore and accompanying Tommy Peoples on a national tour. It's doubtful too whether any reader's album collection does not feature at least one CD where Cyril provides accompaniment – probably the most recent example is Siobhán Peoples and Murty Ryan's Time on Our Hands. <![if !vml]>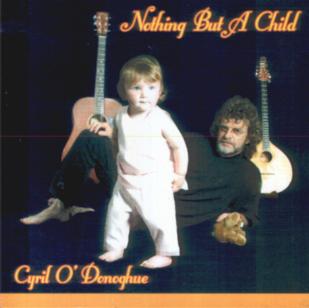 <![endif]>
<![if !supportEmptyParas]> <![endif]>
A veritable host of Clare musicians has repaid the compliment on Nothing Like a Child, including the aforementioned Peoples and Ryan, as well as pianist Pádraic O'Reilly, fiddler Tola Custy (with whom O'Donoghue earlier recorded Setting Free) and low whistler John Kelly. However, over eleven songs and one instrumental (the closing track Aoibhinn's Waltz (saudade), its the singer who remains the dominant figure.
<![if !supportEmptyParas]> <![endif]>
Length does not always entail good value, but, in this case, the sixty-eight minutes do reward investment of both time and your money. However, as O'Donoghue's relaxed pose and the presence of his granddaughter on the cover suggest, this is very much a laid-back affair, perfectly suitable for a balmy Sunday morning.
<![if !supportEmptyParas]> <![endif]>
There's a touch of John Prine in Cyril's voice (he reminds me too of Dick Gaughan at times) and, as apparent on his rendition of Hugh Moffat's Slow Moving Freight Train (presumably not the West Clare Railway), an affection for the more restful aspects of country music. There'a s Steve Earle song too, Nothing But a Child, but the overwhelming majority of the tracks on Nothing But a Child are traditional. The best of these is probably The Night Visit, sung to the kind of guitar accompaniment which sounds far more simple to produce than the actuality. As Cyril recounts in his liner notes, he often sang this for Micho Russell who, in turn, would respond by playing The Piper's Chair for the singer. Fittingly, the tune follows the song on this album, though it's a pity that the liner notes do not reveal whether the whistler is Leonard Barry or John Kelly.
<![if !supportEmptyParas]> <![endif]>
No matter, there's plenty here to enthral and enthuse.
<![if !supportEmptyParas]> <![endif]>
---
<![if !supportEmptyParas]> <![endif]>
This is an original review by Geoff Wallis.
Cyril can be contacted at cyrilodonoghue@eircom.net and Nothing But a Child is distributed by Red Hat Music – www.redhatmusic.com/.
<![if !supportEmptyParas]> <![endif]>
---
<![if !supportEmptyParas]> <![endif]>
<![if !supportEmptyParas]> <![endif]>


 

<![if !supportLineBreakNewLine]>
<![endif]>
<![if !supportEmptyParas]> <![endif]>