Cóisir
<![if !supportEmptyParas]> <![endif]>
On the Right Track
<![if !supportEmptyParas]> <![endif]>
Own label – no number; 54 minutes; 2004
<![if !supportEmptyParas]> <![endif]>
Reviewers tend to expect certain releases to land on their doormats, either through being forewarned by a commissioning magazine or simple anticipation of the likelihood of a particular album turning up in the post. Occasionally, however, albums seem to appear out of the ether and such is the case with Cóisir's On the Right Track.
<![if !vml]>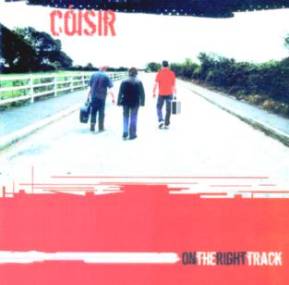 <![endif]>
This Meath-based trio takes its name from the Irish for "party" and consists of the banjo and mandolin player Damaris Woods, her brother Jim on accordion and bodhrán and singer/guitarist Gerry Tully.  Damaris was raised in Luton, an English town with a strong Irish community, but has been based in Ireland for the last fifteen years. Jim's face would be a familiar one to anybody versed in London's Irish music circuit, though is now also living in Ireland, while Gerry is a Meath native who has already released his own solo album, Grist for the Mill.
<![if !supportEmptyParas]> <![endif]>
There's a cross-border flavour to On the Right Track too, since the album was produced by Fermanagh's Pat McManus (who also adds guitars and fiddle) and also featured is another from the clan, Fintan, on bouzouki. The Donegal fiddler Liz Doherty also guests on a couple of tracks.
<![if !supportEmptyParas]> <![endif]>
Geographically, however, it's the London sound of banjo and accordion which dominates this album. Damaris is a very adroit picker, as Kiss the Maid Behind the Barrel fully demonstrates, and in tandem with her brother's accordion produces a sound akin to Liam Farrell and Joe Whelan (which is no mean feat and very pleasant to boot). Jim's also a very mellifluous accordionist, as listeners can hear on an untitled mazurka (learned by Damaris from the playing of Karen Tweed) and his interplay with Liz Doherty on The Hole in the Kettle and Belle Aisle reels (both penned by Pat McManus.
<![if !supportEmptyParas]> <![endif]>
In a sense, however, On the Right Track is actually three albums in one. There are the tunes from the Woods family repertoire and then there's the McManus element (three tunes from Pat and another from Fintan), while the final component consists of Gerry's four self-composed songs where the musical mood is very different (indeed bass guitar is added for two of these).
<![if !supportEmptyParas]> <![endif]>
Gerry is a strong and lyrical writer. His True Love does actually feel like a love song, though Sweet Music sounds like something which Luka Bloom/Barry Moore might be interested in recording (and has rather mid-1980s Pogues-style interludes). What About You has a great opening couplet and some wondrous picking from Damaris and his closing number, The Killing Song, is bitterly bleak. He may not be the most powerful singer, but he certainly has a way with words and, perhaps, this quality will be recognized by better-known Irish singers looking for new material.
<![if !supportEmptyParas]> <![endif]>
All told, On the Right Track proves that Cóisir is a trio well worth watching (and looking out for if you're ever in the Rathcairn gaeltacht.
<![if !supportEmptyParas]> <![endif]>
Geoff Wallis
<![if !supportEmptyParas]> <![endif]>
24th June 2004
<![if !supportEmptyParas]> <![endif]>
---
<![if !supportEmptyParas]> <![endif]>
Click here for more information about Cóisir.
<![if !supportEmptyParas]> <![endif]>
---
<![if !supportEmptyParas]> <![endif]>