Christy O'Leary, Bert Deivert
<![if !supportEmptyParas]> <![endif]>
Song's Sweet Caress
<![if !supportEmptyParas]> <![endif]>
Hard Danger Studio; 51 minutes; 2003
<![if !supportEmptyParas]> <![endif]>
So far, 2003 has been rather a wretched year for Irish traditional releases, but here's something to delight all connoisseurs of excellence, the debut album from the pairing of Irish singer, uilleann piper and whistler Christy O'Leary and the US-born guitarist and bouzouki player Bert Deivert. Of course, Christy will be known to many through his dozen years as a member of Boys of the Lough and his solo album The Northern Bridge, but Bert's will be a less familiar name to traditional music lovers, although he has recorded three albums as a duo with the blues guitarist and singer Eric Bibb and three of his own solo albums. <![if !vml]>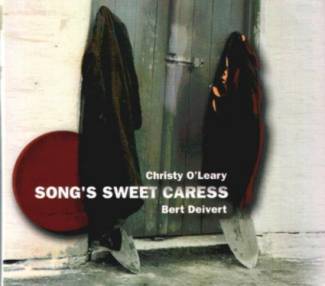 <![endif]>
It's this coupling of different musical backgrounds and experiences which makes Song's Sweet Caress such a fascinating album. Recorded in Sweden, where both Bert and Christy are nowadays based, the album incorporates superb musicianship, eloquent vocals and, most tellingly of all, masterful arrangements of a variety of musical forms.
No less than six of the album's twelve tracks are songs, including two which will be recognizable to many listeners, Green Grows the Laurel and the perhaps over-recorded Bonny Light Horseman (though here benefiting from a decelerated arrangement. The remainder includes Green Fields of Gweedore (previously recorded by Clannad on Fuaim), William'O (learnt from Cathal McConnell), and a startling jazzy rendition of The Slave's Lament (written by Robert Burns) that would certainly grace Mary Coughlan's repertoire. Lastly, there's a new song, Song's Sweeter Caress, written by Bert and Christy, which is one of those rare modern songs which sounds as though it has been in the traditional inventory for decades.
Aided by the mandolin and fiddle of Paul Kelly and Martin O'Hare's bodhrán and bones, some of the musicianship on this album is sumptuous and remarkable, although perhaps the most startling element is Jonny Wartel's soprano saxophone which proves gloriously effective on the opening Green Grows the Laurel. Other guests include Eva Deivert, providing fiddle on the O'Leary-penned Josef's March and Gunnar Backman who offers both bass and a variety of subtly employed electronic effects.
The Dear Irish Boy, learnt from the playing of Leo Rowsome, is Christy's piping high spot, while Bert supplies well-honed accompaniment throughout, including beguiling guitarwork on Miller of Drohan. High production values are also evident in the album's packaging which consists of a gatefold card digipak, superb photography and a lyrics booklet insert.
Bert and Christy will be playing at this year's Return to Camden Town festival. I, for one, can't wait!
<![if !supportEmptyParas]> <![endif]>
---
<![if !supportEmptyParas]> <![endif]>
This is an original review by Geoff Wallis.
<![if !supportEmptyParas]> <![endif]>
For more information about Bert and Christy visit www.deivert.com/oleary.html.
<![if !supportEmptyParas]> <![endif]>
---
<![if !supportEmptyParas]> <![endif]>
<![if !supportEmptyParas]> <![endif]>
<![if !supportEmptyParas]> <![endif]>