The Coleman Archive Volume 2: The Home Place
Coleman Heritage Centre CHC 009; 69 minutes; 2005
The second of the Coleman Heritage Centre's archive releases has again been compiled by Gregory Daly and P.J. Hernon and, while focusing largely upon music from the South Sligo area, also includes material from the collection of Oliver Higgins from Cloone in County Leitrim. Like its predecessor it provides a remarkable insight into the abiding strengths of North Connacht's musical traditions and, comprising thirty-one tracks, is both extraordinarily good value and offers a broad selection of musicians. One small quibble is that there is a preponderance of reels (twenty-two tracks in total) and very little alteration in pace, just<![if !vml]>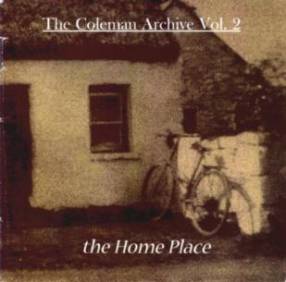 <![endif]> three songs, a hornpipe, a slow air leading to polkas, a set of mazurkas, and three lots jigs offer variety. Similarly, as one might expect, fiddles, flutes and whistles dominate the proceedings and the only exception as a lead instrument is Alfie Joe Dineen's accordion on Lad O'Beirne's/The Frost is All Over. However, there's sufficient variation in approach and pacing to render these qualifications almost insignificant.
Some of the major names of North Connacht's music are here, including Andrew Davey and his regular duet partner Jackie Coleman, the O'Dowd family (including a very young Séamus on guitar), Fred Finn, Roger and Batty Sherlock, Peter Horan, and, perhaps most intriguingly, a 1946 recording of fiddler John McGrath who was a contemporary and both Coleman and Morrison and similarly worked in the US as a music teacher. Lad O'Beirne is believed to be the piano accompanist on the reel Farrell O'Gara.
Then there are the lesser known figures, such as fiddler Phil McConnon, one of the few Sligo musicians to return home after a spell in the US. Two from across the county border who did not do so were the flute and fiddle duo of Charlie Higgins and Jack Dolan from Drumkeeran in County Leitrim while the recording of Ballymote singer Jack Healy comes from a 78 made in 1937 by (Paddy) Killoran's Irish Entertainers. All this information derives from the informative liner booklet which includes brief biographies of all the participants and numerous photographs.
All told this is another outstanding release by the Coleman Heritage Centre guaranteed to excite and enlighten.
Geoff Wallis
16th October, 2005
---
This CD can be purchased directly from The Coleman Heritage Centre, Gurteen, Co. Sligo – www.colemanirishmusic.com.
---