<![if !supportEmptyParas]> <![endif]>
Crosskeys Inn – Live in the Kitchen
<![if !supportEmptyParas]> <![endif]>
Crosskeys Inn Heritage Trust XKEY2000; 65 minutes; 2000
<![if !supportEmptyParas]> <![endif]>
Situated in a beautiful rural location between Portglenone and Toome in County Antrim, the Crosskeys Inn had a deserved reputation as one of Northern Ireland's supreme traditional music pubs. Sadly, one night in February 2000, the three hundred year old building was seriously damaged by fire and, for a time, there was considerable concern that it might never reopen. Fortunately, it is back in business again and looked in fine condition when I visited in 2002. <![if !vml]>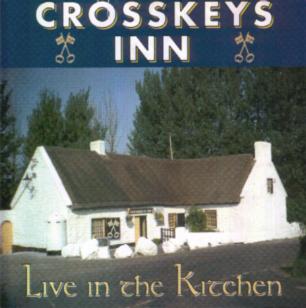 <![endif]>
<![if !supportEmptyParas]> <![endif]>
Shortly after the fire various fundraising projects were instigated and these included the recording and production of this CD, Live in the Kitchen. The kitchen in question was, I believe, that of another well-respected Northern Irish bar, The Skerry in Newtowncrumlin, another isolated pub halfway between Ballymena and Antrim. The album's twenty tracks feature a number of musicians prominent in the Antrim and Belfast session scene and two very special guests (more of whom anon). Fans of the lamented Déanta will be intrigued to learn that Clodagh Warnock pops up playing fiddle on the album's closing track, one of her accompanists being Magherafelt's best-known pharmacist, Eoghan O'Brien whose sister Kate features as one of a triumvirate of fiddlers on one of the album's outstanding tracks, a set kicked off by Farrel O'Gara's reel. There's also space for a couple of tracks from that very fine fiddler Maurice Bradley in conjunction with that contemporary rarity, the melodeon, played by Ciarán Kelly. The very musical Weir Family (whose mother Liz is a well-known seanachie) also feature strongly, providing an a cappella rendition of The Wee Lass on the Brae (forever associated in this reviewer's mind with Tríona Ní Dhomhnaill) and musically on a set of jigs and The Providence reel.
<![if !supportEmptyParas]> <![endif]>
Lovers of the bodhrán will also be gratified by the appearance of arguably the Six Counties' premier exponent, Séamus O'Kane, whom I last saw beating with perfect resonance in the company of Francie Mooney and Stephen Campbell at Húdaí Beag's in Donegal. However, despite the panoply of current local talents on parade, it's an émigré and his sidekick from South Armagh who steal the show.
<![if !supportEmptyParas]> <![endif]>
Len Graham might have been born in the Antrim Glens, but has lived for a long time in South Armagh, home too to the wondrous storyteller and mouth harp player (of the plucking variety) John Campbell. Len's solo rendition of Pretty Susan reveals a singer still at the peak of his powers, while John's story of one of the Murphys of South Armagh and their numerous nicknames, The Tight-Lipped Man, is shaggier than an Old English Sheepdog and, thanks to the acuity of his observational skills, retains all its wit through repeated listening. Together the pair provides a sparkling version of The Little Pack of Tailors, replete with Campbell's mouth harp resonance.
<![if !supportEmptyParas]> <![endif]>
This CD might no longer be available, but is certainly well worth tracking down, not least for an insight into the sometimes gently swaying music that emanates from County Antrim.
<![if !supportEmptyParas]> <![endif]>
---
<![if !supportEmptyParas]> <![endif]>
This is an original review by Geoff Wallis.
<![if !supportEmptyParas]> <![endif]>
---
<![if !supportEmptyParas]> <![endif]>
<![if !supportEmptyParas]> <![endif]>