Ciarán Tourish
<![if !supportEmptyParas]> <![endif]>
Down the Line
<![if !supportEmptyParas]> <![endif]>
Compass Records 7 4407 2; 38 minutes; 2005
<![if !supportEmptyParas]> <![endif]>
Albums which take years to record sometimes turn out to be works of genius, but more often than not tend to lack cohesion and so it goes with this debut solo release by the Altan fiddler. A chat with the affable Ciarán at the 2002 Finsbury Park Fleadh revealed that he planned to issue his album shortly, but it's taken another three years to appear since then.
<![if !supportEmptyParas]> <![endif]>
<![if !vml]>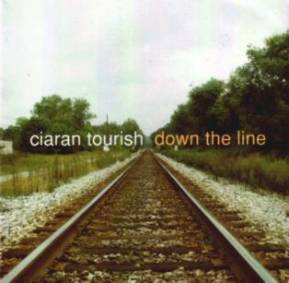 <![endif]>Anyone familiar with Altan's work will be well aware of Ciarán's prowess as a fiddler and the man from County Donegal certainly demonstrates all his strengths, wonderful twists and turns and the knowledge when to play and when not to play a grace note and, for the most part, that powerful driving Donegal style. The last is well revealed by one of the 'big' tunes of the county, Lord Gordon's Reel and a fabulous set of tunes which concludes with that Sligo favourite Famous Ballymote. There's also a fine personal composition, the rolling Carlisle Bay Waltz and a beautifully evocative whistle rendition of Port na bPúcai.
<![if !supportEmptyParas]> <![endif]>
My earlier mention of inconsistency in this case refers to the album's three songs which, admirable though the performances of Paul Brady, Tim O'Brien, and Maura O'Connell may be, leave one wishing that the fiddler had opted for a thorough examination of his skills. At times too, as on Oldtown, the album is heavily reminiscent of Dónal Lunny's recordings with Coolfin. Overall, Down the Line is definitely not an also-ran, but more of a good each-way bet.
<![if !supportEmptyParas]> <![endif]>
---
<![if !supportEmptyParas]> <![endif]>
This review by Geoff Wallis first appeared in Songlines – www.songlines.co.uk.
For more information Compass Records visit www.compassrecords.com.
---
<![if !supportEmptyParas]> <![endif]>
<![if !supportEmptyParas]> <![endif]>
<![if !supportEmptyParas]> <![endif]>
<![if !supportEmptyParas]> <![endif]>