Various
<![if !supportEmptyParas]> <![endif]>
Come West Along the Road
<![if !supportEmptyParas]> <![endif]>
RTÉ DVD99; 2005
<![if !supportEmptyParas]> <![endif]>
One of the Irish state broadcaster Radio Telefís Éireann's long-standing successes is the weekly traditional music series Come West Along the Road, which has run since 1994 in a relatively unchanged format, although an Irish language version was introduced in 2001. It's a simple and highly effective set-up in which the director of Dublin's Irish Traditional Music Archive, Nicholas Carolan, researches and presents (in a very unobtrusive manner) a half-hour show drawn from the vast archives of not only RTÉ, but from Ulster TV too and various film and newsreel sources. <![if !vml]>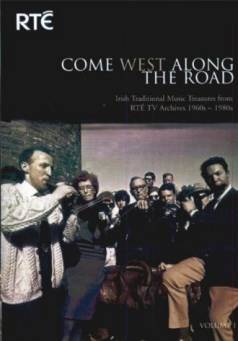 <![endif]>
<![if !supportEmptyParas]> <![endif]>
Offering a selection of material from the show, this 145-minutes-long DVD can obviously provide but a mere snippet of the 150 and more episodes in the series, but it does so magnificently. Not only are many of the 47 clips taken from the 1960s to the 1980s of inherent musical value, but they provide a glimpse of the ways that TV producers dealt somewhat clumsily with traditional music in the past, whether it be in the form of a full-scale concert broadcast, a snippet on a news magazine programme or within a documentary. Add to that a glorious insight into changing fashions which reveal that both the paisley shirt (patterned, not Big Ian) and the Bobby Charlton comb-over hairstyle survived in Ireland long past their sell-by date elsewhere. Truth be told, fashionistas may find much of the disc pretty drab fodder, but cannot fail to be impressed by a stunning scarlet dress sported by fiddler Julia Clifford or Matt Molloy's unfeasibly tight jeans.
<![if !supportEmptyParas]> <![endif]>
As for the music itself, well, the sound of balladeers such as The Ludlow Trio or Al O'Donnell has aged rather poorly. Contrastingly, the Bothy Band and Planxty fare rather well and there's some fabulous fiddle-work from Séan Keane and Tommy Peoples, as well as a very rare clip of accordionist Joe Cooley and great songs from Frank Harte, Nioclás Tóibín and the Kerry singer Pádraig Ághas (with supportive fellow bar denizen clutching the singer's while desperately trying not to spill his own pint). There are shots of Wrenboys, pub and street sessions, Mummers and frenetic middle-aged set-dancers, but perhaps the most abiding memory will be of uilleann piper Liam O'Flynn playing the jig Frieze Britches  to an audience of apparently bemused young black women at the Battersea Arts Centre some time in the 1970s and gradually winning them over in the process.
<![if !supportEmptyParas]> <![endif]>
---
<![if !supportEmptyParas]> <![endif]>
This review by Geoff Wallis was written for fRoots magazine – www.frootsmag.com.
<![if !supportEmptyParas]> <![endif]>
---
<![if !supportEmptyParas]> <![endif]>
<![if !supportEmptyParas]> <![endif]>
<![if !supportEmptyParas]> <![endif]>