Damhsa
Own label DAM1; 63 minutes; 2004
Many years ago Eric Idle featured in a Monty Python sketch about Australian philosophers which included the memorable words "this is not just a wine to lay down, this is a wine to lay down and avoid". His words sprang to mind on hearing this debut album by Damhsa, a song and dance troupe from the county of Yorkshire, most of whom, according to the accompanying press release, are members of Comhaltas Ceoltóirí Éireann. <![if !vml]>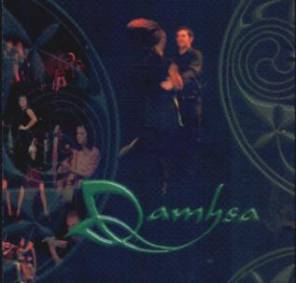 <![endif]>
That last point should not be surprising when one discovers that Damhsa's album consists of the agonizing pap which CCÉ regularly parades in its tourist-driven shows at its Monkstown HQ. Indeed, to use another apposite comparison, this is akin to the Bunratty Castle experience translated to Leeds.
The full horror of Damhsa is revealed on two adjacent tracks, an anodyne harp rendition of the Carolan air Eleanor Plunket and a thoroughly nauseating set consisting of an untitled hornpipe (played so ploddingly that it beggars belief) and the reels Donegal Traveller and The Big Kerry, replete with the sound of dancers whose feet seem to reflect some kind of bizarre circus acrobatics routine.
The album's two songs include a fabulously excruciating rendition of The Flower of Magherally, plus there's some pretty mediocre lilting in which the protagonist disobeys one of the basic principles of mouth music by refusing to maintain the same key throughout his efforts. Mind you, the track which follows (The Chanter's Tune) features a fiddle and harp so disharmonious that dogs in the surrounding area should be warned in advance. Amazingly, when these two musicians are joined by a flute, a banjo and an accordion for Porthole of the Kelp it seems that only two out of the five are playing in tune (if Bobby Casey were still alive, I know where he'd be pointing his rocket launcher). As for the barndance Terry Teahan's, the whistler's contribution should be thoroughly erased from one's memory, but this simply pales in comparison to the performance of the man who not only murders The Eagle's Whistle on the uilleann pipes (accompanied disharmoniously again by the harper), but seems to be intent on burying the tune for good and dancing on its grave for a considerable time afterwards. Landlords of Irish pubs keen to remove drinkers at closing time would be well advised to buy a copy of the album just for this track whose playing will guarantee a stampede for the door.
That being said, there are occasions on this album where the musicians do seem to be pulling together in the right direction, but these are few and very far between. Interestingly, too, for a live album, the audience's response is just slightly above lukewarm (and, at times, appears to have been dubbed on as an afterthought).
<![if !supportEmptyParas]> <![endif]>
Presumably, the Damhsa stage show is aimed at the kind of audience which always wanted to catch a Riverdance or Lord of the Dance show, but couldn't afford the bus fare. Alarmingly, the show is targeted at festivals and small theatres (bookers should be warned) and has already featured at Broadstairs Folk Week as well as undertaking a short tour (one wonders how short exactly) of The Netherlands.
<![if !supportEmptyParas]> <![endif]>
As if all of the above was not sufficient punishment, the liner notes claim that there are tunes called 'Major Harrison's Fedora', 'Whinney Hills of Leitrim' and 'Pipers Dispair' and, wait for it, there's even a bodhrán solo. For some reason, though it's clearly a darkened stage set in the photograph, all the musicians are wearing shades (which might explain a lot), but ear trumpets might have been a more suitable accoutrement.
<![if !supportEmptyParas]> <![endif]>
Geoff Wallis
<![if !supportEmptyParas]> <![endif]>
26th October, 2004
<![if !supportEmptyParas]> <![endif]>
---
<![if !supportEmptyParas]> <![endif]>
Contact details will only be provided on receipt of an extortionately large sum of money (preferably in used fivers) and left in the customary locker at Waterloo Station.
<![if !supportEmptyParas]> <![endif]>
---