Danú
<![if !supportEmptyParas]> <![endif]>
One Night Stand
<![if !supportEmptyParas]> <![endif]>
Danú DVD 01; 2005
<![if !supportEmptyParas]> <![endif]>
Over five more than solid albums of traditional music and song, and the mix of solos that constituted Up in the Air, Danú have acquired a justifiably glowing reputation as one of Ireland's most exhilarating and hard-working bands. Their infectious brew of music from the traditions of counties Waterford, Dublin and, in latter days, Donegal and Kerry has delighted audiences around the world and the band has been more than fortunate in its choice of singers, the wonderful Ciarán Ó Gealbháin and, more recently, the effervescent Muireann Nic Amhlaoibh.
<![if !supportEmptyParas]> <![endif]>
<![if !vml]>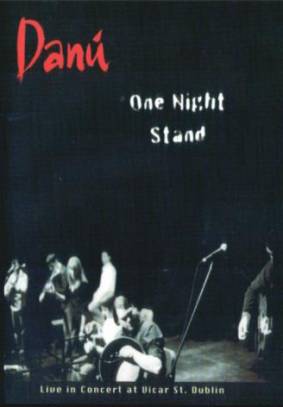 <![endif]>Not that long ago Danú announced their intention to take a break from touring, so this in-concert video, recorded at Dublin's intimate Vicar Street venue, will have to suffice in the interim and it's a very attractive affair indeed.
<![if !supportEmptyParas]> <![endif]>
The band are on top form throughout a grand mix of tunes, led by Tom Doorley's flute and Benny McCarthy's accordion, and driven by powerful guitar, bouzouki and bodhrán, the last-named played by the increasingly Meatloaf look-alike, Donnchadh Gough, who also supplies some spirited uilleann piping. Muireann is in splendid voice throughout and also proves to be a fine whistle and flute player too.
<![if !supportEmptyParas]> <![endif]>
But, and it's a very big proviso indeed, One Night Stand should not be taken as an introduction to traditional music. Danú are a full-blown concert-performing band and the traditional tunes on literal show here are very much arranged pieces of music. There's nothing intrinsically wrong with that, but Irish music has always thrived on variation and its most enjoyable venue has long been the pub, not the concert hall.
<![if !supportEmptyParas]> <![endif]>
Nevertheless, this is an utterly beguiling DVD and includes some intriguing extra features, including interviews with the band.
<![if !supportEmptyParas]> <![endif]>
---
<![if !supportEmptyParas]> <![endif]>
This review by Geoff Wallis was written for Songlines magazine – www.songlines.co.uk.
<![if !supportEmptyParas]> <![endif]>
---
<![if !supportEmptyParas]> <![endif]>
<![if !supportEmptyParas]> <![endif]>
<![if !supportEmptyParas]> <![endif]>