Deirdre Collis – Bosca Ceoil
Sound Records SUNCD 46; 45 minutes; 2002
<![if !supportEmptyParas]> <![endif]>
Carmel Gunning - Around St. James' Well
Sound Records SUNCD 44; 59 minutes; 2002
<![if !supportEmptyParas]> <![endif]>
John Regan - The Slopes of Benbulben
Sound Records SUNCD 43; 51 minutes
<![if !supportEmptyParas]> <![endif]>
<![if !supportEmptyParas]> <![endif]>
<![if !supportEmptyParas]> <![endif]>
<![if !vml]>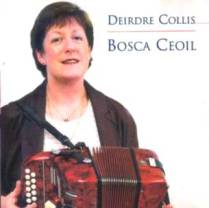 <![endif]>Think of the music of County Sligo and it's usually fiddles (Coleman, Killoran, Morrison) or flutes (Tansey, Horan, O'Donnell and Henry) which spring to mind. Now here are three releases, each by well-established musicians, which offer another important aspect of the local tradition. Deirdre Collis hails from Collooney and possesses the unique achievement of having won All-Ireland titles at all levels on three different instruments (accordion, whistle and flute), as well as being a member of the Owenmore Céilí Band. Bosca Ceoil ("Music Box") is her debut album, and a fine sample of her musical talents on the accordion, accompanied by a panoply of different pianists. There's nothing particularly special here, but just an accomplished musician playing a selection of her favourite tunes.
<![if !supportEmptyParas]> <![endif]>
<![if !supportEmptyParas]> <![endif]>
<![if !vml]>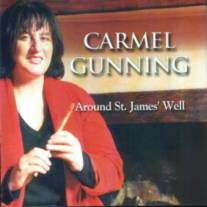 <![endif]>In contrast, the whistler and singer Carmel Gunning, from Geevagh, is better known to Irish audiences, thanks to her first album, The Lakes of Sligo, and regular appearances on TV and radio. Carmel's latest album is replete with whistling virtuosity and sets her up on the same level as other dab hands on the instrument, such as Mary Bergin and Seán Ryan. Here she's accompanied by Altan's Mark Kelly and a couple of bodhrán players, while there are guest spots for one of Ireland's most sublime pipers, Neillidh Mulligan, and the stunning fiddler from Co. Leitrim, Vincent Harrison. The four songs aren't half good too.
<![if !supportEmptyParas]> <![endif]>
<![if !supportEmptyParas]> <![endif]>
<![if !vml]>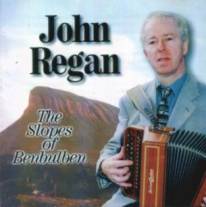 <![endif]>Lastly, and probably best known of this triumvirate, comes an album from accordionist John Regan, a long-time Dublin resident well-known in the past for his playing with both Mary Bergin and fiddler Paddy Glackin. The Slopes of Benbulben sees him teamed up with long-time accompanist, pianist Mary Corcoran, and first appeared in 1988 (though the liner note don't reveal this). Nevertheless, it's a bouncy set of tunes where John simply lets his fingers do the talking, without fanfare or fuss.
<![if !supportEmptyParas]> <![endif]>
All three albums are available from Sound Records at www.record-room.com, but potential purchasers should be aware that the liner notes are minimal and the company employs a proof-reader unable to countenance the concept of an apostrophe.
<![if !supportEmptyParas]> <![endif]>
---
<![if !supportEmptyParas]> <![endif]>
This review by Geoff Wallis originally appeared in fRoots magazine – www.frootsmag.com.
<![if !supportEmptyParas]> <![endif]>
---
<![if !supportEmptyParas]> <![endif]>
<![if !supportEmptyParas]> <![endif]>
<![if !supportEmptyParas]> <![endif]>
<![if !supportEmptyParas]> <![endif]>