Doolin Point: Best of Divers' Nights 1992-1999
<![if !supportEmptyParas]> <![endif]>
Burren Sub-Aqua Club - no catalogue number; 51 minutes; 2002
<![if !supportEmptyParas]> <![endif]>
Do not be deterred by the amateurish appearance and somewhat sloppy design of the liner for Doolin Point is an outstanding collection of music, drawing largely upon the strengths of County Clare, but with a few welcome guests from elsewhere in Ireland. All twelve tracks were recorded live at the annual benefit concerts held to support the Burren Sub-Aqua Club, and sometimes there's a little too much background noise in the mix, but that does little to diminish the quality of the music, warts and all.
<![if !supportEmptyParas]> <![endif]>
<![if !vml]>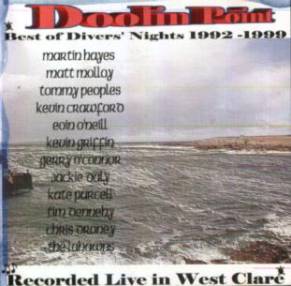 <![endif]>Several of the musicians featured on this album are from Ireland's top drawer and produce performances to match. Three such performances feature in the first four tracks: a dazzling opener from Martin Hayes, accompanied by Pat Marsh on bouzouki; then Tommy Peoples produces one of those unsurpassable medleys from his musical kitbag, sending College Groves to new heights in particular; lastly, the fourth track reveals Matt Molloy in all his glory, ably supported by that excellent pianist George Byrt, and producing an effortlessly rolling rendition of Paddy Ryan's Dream. The other real standout track is a seven-minute recording of Jackie Daly (and one surname-deficient Monica) who whirls through a version of Willie Coleman's as bouncy as a spacehopper on the moon. The sound quality on this particular track is rather dodgy, but nothing (not even the rather laboured accompaniment) can distract from the effervescence of the Daly accordion in full spate.
<![if !supportEmptyParas]> <![endif]>
Some may not be fond of what has been described in a review elsewhere as Gerry O'Connor's "jazz progressions applied to Irish tunes", but there's no doubting the vivacity and sheer precision of his playing on the album's closing track, The Reconciliation Set with some appropriate frantic strumming from his Four Men and a Dog colleague Kevin O'Doherty. Indeed, there's little evidence of those fabled "progressions" either, though diehard traditionalists might prefer the more sedate concertina-work of Chris Droney on The Noon Lasses. Gerry also manages to quip at the end "It's very hard to collect money when you're underwater all the time"!
<![if !supportEmptyParas]> <![endif]>
Songs on the album come from Tim Dennehy who provides the come-all-ye Famous Faha Sports and, unfortunately, the CD's worst moment, a cloying ballad from Kate Purcell (which owes plenty to the early James Taylor), while other musicians appearing include Kevins Crawford and Griffin and The Lahawns céilí band.
<![if !supportEmptyParas]> <![endif]>
---
<![if !supportEmptyParas]> <![endif]>
This is an original review by Geoff Wallis.
<![if !supportEmptyParas]> <![endif]>
Click here for more information about Doolin Point.
<![if !supportEmptyParas]> <![endif]>
---
<![if !supportEmptyParas]> <![endif]>
<![if !supportEmptyParas]> <![endif]>