Desi Wilkinson, Cathal Hayden & Jim McGrath
<![if !supportEmptyParas]> <![endif]>
Sounds from the North
<![if !supportEmptyParas]> <![endif]>
Liekedeler Musikproductionen LIECD 01017; 43 minutes; 2001
<![if !supportEmptyParas]> <![endif]>
It's not often that a reviewer receives an album from a German label, nor one whose goods are accompanied by a catalogue advertising "Original Keltische Accessories". If you're interested in the latter, such Celtic accessories include a t-shirt depicting sheep participating in a session, a Royal Steward tartan mouse-pad and a selection of appropriate fridge magnets. Personally, I rather fancy a new career reviewing Celtic fridge magnets, so any interested companies out there, please send Mr. Stradling at Musical Traditions samples of your wares.  <![if !vml]>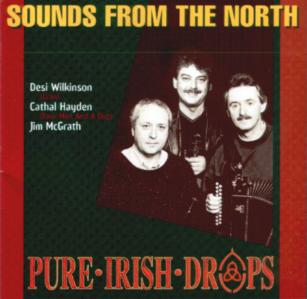 <![endif]>
<![if !supportEmptyParas]> <![endif]>
Anyway, thanks to being in occasional contact with Desi Wilkinson, I know a little about this album's provenance. The project was organised by renowned promoter Florian Fürst as part of his regular series of Pure Irish Drops tours. In this case, the three musicians involved were asked to record an album to accompany their then forthcoming tour of Germany, so that, as Florian writes in the liner notes:
<![if !supportEmptyParas]> <![endif]>
Visitors to this year's concerts can take memories of the evening home with them, and those who buy the CD without having seen the concerts will gain an insight into the project's goal to present traditional music as authentically and intensively as it can be when purely commercial aspects take a back seat.
<![if !supportEmptyParas]> <![endif]>
Now, of course, such sentiments are innately laudable, but ultimately depend on the quality of the recording and whether or not it is a fair reflection of the musicians' abilities. Sadly, in this case, on the day of the recording in Monea, near Enniskillen, Desi Wilkinson had a cold whose rheumy effects mar his two songs on the album, The Flower of Magherally-O and The Hiring Fair at Hamiltonsbawn. In this particular case, and to be fair to Desi, the album really should carry a health warning, since any purchaser who has missed the fortune of hearing the Wilkinson larynx in its finest fettle will be left with thoroughly the wrong impression. However, much to our fortuity, his throaty malaise does not appear to have affected his flute-playing.
<![if !supportEmptyParas]> <![endif]>
All three musicians were on fine instrumental form for this recording and particular highlights include a typical solo tour de force from Cathal Hayden on The Pidgeon on the Gate/The College Groves pair of reels, all Tyrone swoops and soars, and an marvellously lonesome starter to the album from accordionist Jim McGrath in the form of the slow air Bessie the Beauty of Rossinore Hill, one from the singing repertoire of the late Mick Hoy who hailed from Jim's home village of Derrygonnelly, Co. Fermanagh. The three also combine to grand effect on March of the Clan Maguire (with Cathal on banjo), leading onto The Old Woman's Purse of Money, a jig from the repertoire of Joe Cooley. Elsewhere, Belfast and Pomeroy combine in Desi and Cathal's sublime rendition of a set of reels, Jolly Tinker, where Desi aptly remarks that "we really let go on these ones". The album ends with another languorous air from the Hoy repertoire, Farewell Dear Erin, played with supreme sensitivity by Jim McGrath.
<![if !supportEmptyParas]> <![endif]>
Liner notes appear in both German and English.
---
<![if !supportEmptyParas]> <![endif]>
Reviewed by Geoff Wallis for Musical Traditions magazine – www.mustrad.org.uk.
<![if !supportEmptyParas]> <![endif]>
Currently, this label lacks a distributor in the UK, but copies are available from its website – www.liekedeler.de.
<![if !supportEmptyParas]> <![endif]>
---
<![if !supportEmptyParas]> <![endif]>
<![if !supportEmptyParas]> <![endif]>