Ennis Céilí Band
Traditional Dance Music from County Clare
Rath Records RRCD002; 35 minutes; 2003
Padraic O'Reilly
Down the Ivory Stairs
Rath Records RRCD001; 41 minutes; 2001
I saw the Ennis Céilí Band win the All-Ireland at the Fleadh in Listowel in 2002 and the CD does them full justice, The first track is very atmospheric and was in fact recorded at the competition. Overall the sound is tight and the playing lively throughout. I have always been slightly wary of the typical Fleadh céilí band line-up which can to my ears sound sometime a bit squeaky with three or four fiddles and a flute in front and the lone box-player struggling behind, but not this band. The combination of very-together playing and a careful recording mix gives a fulsome sound well supported by the piano of the band's leader, Padraic O'Reilly. <![if !vml]>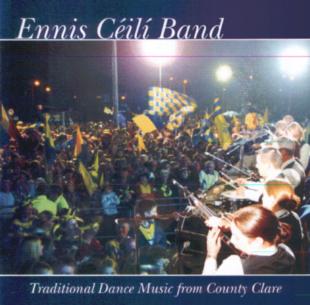 <![endif]>
I am not quite sure how a pianist leads a céilí band. It is more usually the box-player or a lead fiddle, but that's what it says on the label! Padraic gives them the two "bumps" to start and off they go. There is a good mix of common and more obscure tunes, including two settings of Ed Reavy's Hunter's House, but a Scottish jig which they attribute to Jimmy Shand is actually the well-known Rosewood.
Marches are traditionally part of the céilí band repertoire (required for the Waves of Tory) and thus also feature in the competition curriculum. There are three marches on this CD, each on a separate track, and two of these are rare tunes from the nineteenth century Grier collection. The playing of the marches is suitably military in style, with some quite interesting part-playing by sections of the band.
It's not all-band all the way either as there are two lovely tracks featuring a trio from the band: Nuala Hehir (accordion); Liz Gaughan (fiddle) with Padraic O'Reilly (piano). Altogether a very enjoyable listen – recommended.
Padraic O'Reilly's piano CD is a breath of fresh air – solo piano recordings of traditional music are thin on the ground. His sound and style will initially remind you of something from Mícheál Ó Súilleabháin, but Padraic is somewhat deeper in to the tradition, I guess, and what we have here is a virtuoso traditional musician whose instrument happens to be the piano, rather than a classical pianist who can play Irish Dance tunes when he feels like it. Could it be just a coincidence however that some of the tracks were recorded at Ó Súilleabháin's stomping ground – the University of Limerick?
<![if !vml]>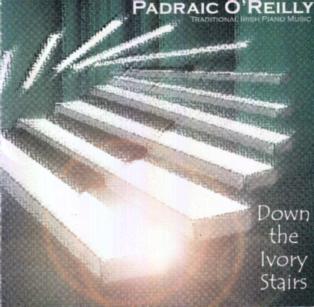 <![endif]>Padraic plays the dance tunes with gusto and his implementation of the ornaments, both rolls and triplets is impeccable. He gives us great reels, jigs (including one of his own), hornpipes, airs and set-dances on his own and with virtuoso contributions from the likes of Liam O'Connor and Garry Shannon whom he accompanies. The piano sound is sparkling and when Padraic solos, he has arranged an exciting rhythmic backing with "modern" breaks which add to the exuberance of the music.
As in the céilí band album there is a titling glitch involving a Scottish tune, when what many will recognise as Jean's Reel, composed by the late Bobby McLeod for his wife, is attributed to another Scottish accordionist: Phil Cunningham. Maybe Clare is too far from Scotland and such connections get blurred…a Northern Irish musician would know better! Nevertheless a lovely innovative album from the leader of the Ennis Céilí Band. If you like traditional piano, this is for you.
---
These original reviews were written by Seán Quinn for The Irish Music Review.
---