Erne
<![if !supportEmptyParas]> <![endif]>
Irish Traditional Music
<![if !supportEmptyParas]> <![endif]>
Own label - no number; 40 minutes; undated
<![if !supportEmptyParas]> <![endif]>
Here's another one I picked up from Mazz (see the Geantrái review) and, apparently, the only copies left are contained in a box in guitarist Tommy O'Sullivan's spare room or somewhere thereabouts. Scanning the liner and enquiring of knowledgeable friends, I'm not even certain if this short-lived quartet was even called Erne. Tommy was away touring, so I couldn't ask him, but all I can tell you is that the album was recorded in Sligo in 1998 and that the quartet obviously had a good time at The Beach Hotel, Mullaghmore, as it receives special thanks in the exceptionally brief notes.<![if !vml]>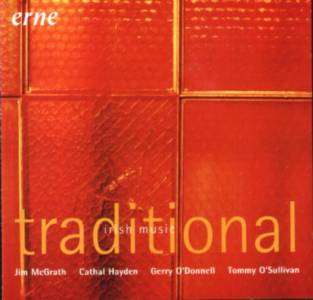 <![endif]>
<![if !supportEmptyParas]> <![endif]>
Anyway, to progress, the Erne (for want of a better name) consisted of the aforementioned Mr. O'Sullivan on guitar and vocals, together with the fiddle of Cathal Hayden, the accordion of Jim McGrath and the flute and whistle of Gerry O'Donnell.  Cathal will be well known to many, thanks to Four Men and a Dog and his own solo albums, while Tommy will be familiar via Sliabh Notes and his work with Paddy Keenan. However, I am suffering from temporary amnesia regarding Messrs. McGrath and O'Connell, possibly because the latter's fizzog looks so familiar in the liner's picture that I might owe him several pints (so any information regarding the twosome would be welcome and, if you are Gerry O'Donnell, please verify the name of the bar where I bought them and how many pints I owe you).
<![if !supportEmptyParas]> <![endif]>
Needless to say, anything involving the hand, fingers and bow of Cathal Hayden should be rapidly distilled, bottled and available to the public on prescription. The man has the Midas touch and there's enough gold here to furnish the fittings in Victoria Beckham's bathroom, most of it being supplied by a typically cavalier rendition of Fred Finn's Reel. However, both Jim and Gerry (was it The Kitchen Bar in Belfast, Gerry?) prove to be his equals throughout and, most notably in the latter's case (or, maybe, the old Furey's in Sligo?) on a stunning rendition of Paddy's Rambles in the Park where Tommy's guitar conjures some of the best accompaniment this long-suffering reviewer has ever heard.
<![if !supportEmptyParas]> <![endif]>
As you would expect from an album featuring Tommy, there are a couple of songs here, the best of which is his rendition of The Maids of Culmore. Unusually for the singer, who has a rather extensive repertoire, the song also appears on his recent album with Paddy Keenan, The Long Grazing Acre, so I guess he must like it. I know I do (and that reminds me, Gerry, it wasn't the Dungloe in Derry, was it?)
<![if !supportEmptyParas]> <![endif]>
Without doubt, this is a classy album by four equally classy musicians and well worth tracking down.
<![if !supportEmptyParas]> <![endif]>
Subsequent research revealed that Jim McGrath comes from Fermanagh and Gerry O'Donnell recorded with the McKennas in the band Sean Nua.
---
<![if !supportEmptyParas]> <![endif]>
Reviewed by Geoff Wallis for Musical Traditions magazine – www.mustrad.org.uk.
<![if !supportEmptyParas]> <![endif]>
---
<![if !supportEmptyParas]> <![endif]>
<![if !supportEmptyParas]> <![endif]>
<![if !supportEmptyParas]> <![endif]>