Fiddle Fair 2:
<![if !supportEmptyParas]> <![endif]>
Live at Declan McCarthy's, Baltimore
<![if !supportEmptyParas]> <![endif]>
Own label – no catalogue number; 50 minutes; 2004
The Baltimore in question is in County Cork where Declan McCarthy's bar hosts an annual traditional music festival, somehow cramming a hundred people inside its walls for its concerts. Some years ago the bar issued the first Fiddle Fair album and this is its belated successor, recorded in May 2003. As such, it must be a bit of a rarity in being co-recorded, co-mixed and co–mastered by a parson – the Reverend Billy Robinson from County Donegal (whom, I presume, by his name and title and the fact that he is based in Ramelton, is of the Church of Ireland). <![if !vml]>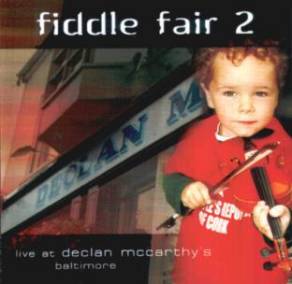 <![endif]>
<![if !supportEmptyParas]> <![endif]>
As the title suggest, there's a strong fiddle element present and, in this case especially, a very powerful Donegal presence. The most striking of these is an astonishing unaccompanied set of tunes, The Old Wheel of Fortune, from Dermot McLaughlin. Though Dermot (who is brother-in-law of the late Frankie Kennedy) hails from Derry, there's more than a touch of the Atlantic roar about his playing and, as he whisks through Patsy's Touhy's Reel, the listener can almost hear the waves crashing below Glen Head.
<![if !supportEmptyParas]> <![endif]>
Then there's Altan's Ciarán Tourish whirling through The Silver Spire, The Killavil Reel and The College Groves all to some typically tasteful guitar accompaniment from Paul Brady. (Ciarán told this reviewer some two years ago that his own solo album would shortly be appearing – it still has not, but, on this evidence, he should need no encouragement to release it. (Of course, Ciarán's album did finally appear in 2005. Ed.).
<![if !supportEmptyParas]> <![endif]>
In contrast, Altan's own two tracks are rather more subdued. The first, Roaring Water, is a slowish jig co-composed by Tourish and guitarist Mark Kelly, while the other is Mairéad Ní Mhaonaigh's song An Cailín Óg from The Blue Idol album. Other fireworks, however, are supplied by the Shetland (I think) band Filska on a truly pyrotechnic set Bunjie's Dilemma while Liz Carroll, accompanied by guitarist Paul Meehan, is typically ebullient on Anlon McKinney's/Mind the Dresser and rather more reflective, as the title might suggest, on her second outing, the moody Long Nights on the Misty Moor. Other Irish  bands present include Calico who kick the whole affair off with their sprightly Songdogs set while North Cregg head for polka heaven on Pete Bradley's. Seán Tyrrell also adds one of his most cogent song interpretations, The Coast of Malabar.
<![if !supportEmptyParas]> <![endif]>
Those who might have wondered what happened to Nicolas Quemener after the demise of Arcady will find him in suitably fine voice as part of the Breton band Kornog's rendition of Dame Lombarde while lovers of the flute will enjoy Jean-Michel Veillon's  role in the same band's La Belle Elénore/Les Filles de Saille. Lastly, there's the Foghorn String Band laying into Indian Ate the Woodchuck with full bluegrass fervour, though perhaps the band's rendition of Golden Slippers might be regarded as an aberration.
<![if !supportEmptyParas]> <![endif]>
All told, it's a grand compilation, so it's sad to report that the very brief liner has clearly not been proofread. Indeed, some of the errors pay the musicians a major disservice since the track listing reports that each of the following participated: "Dermot McGloughlin"; "Sean Tyrell"; and, "Forhorn String Band".  The title of the Altan song is misspelt and I also have my doubts whether Liz Carroll's "Anlon" is actually "Anton McKinney's"! Nevertheless, don't let that be a deterrent, although anyone looking to book "Dermot McGloughlin" should pay heed.
<![if !supportEmptyParas]> <![endif]>
Oh, and there's also a hidden track which sounds from the voices very much like the Altan gang enjoying the crack and features the somewhat rudimentary fiddling of Mr Declan McCarthy himself.
<![if !supportEmptyParas]> <![endif]>
Geoff Wallis
<![if !supportEmptyParas]> <![endif]>
13th July, 2004
<![if !supportEmptyParas]> <![endif]>
---
The album is available directly from the bar and is from www.fiddlefair.com.
<![if !supportEmptyParas]> <![endif]>
---