<![if !supportEmptyParas]> <![endif]>
The Fiddle Music of Donegal
<![if !supportEmptyParas]> <![endif]>
Cairdeas Recordings
<![if !supportEmptyParas]> <![endif]>
CNF 001 – Volume 1; 67 minutes; 1996
CNF 002 – Volume 1; 69 minutes; 1998
CNF 003 – Volume 3; 60 minutes; 2000
<![if !supportEmptyParas]> <![endif]>
<![if !supportEmptyParas]> <![endif]>
<![if !vml]>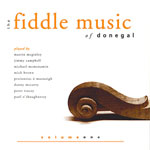 <![endif]>           <![if !vml]>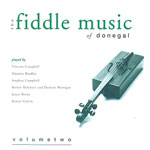 <![endif]>           <![if !vml]>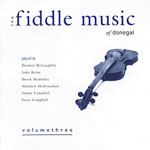 <![endif]>
<![if !supportEmptyParas]> <![endif]>
<![if !supportEmptyParas]> <![endif]>
These three albums of extracts from concerts recorded at the Cairdeas na bhFidiléirí summer schools in Glencolmcille during the 1990s provide not only a more than enticing glimpse of the then current state of fiddle music in Donegal, but, in each case, a thoroughly rewarding experience for the listener. Indeed, whether already a connoisseur of the various local styles which conjoin to form that very recognisable Donegal 'drive', just an admirer of fine fiddling, or a beginner seeking to enhance skills or learn new tunes, this trio of CDs is not just a rewarding, but an essential purchase.
<![if !supportEmptyParas]> <![endif]>
Virtually all of the most well-known Donegal fiddlers of the late 20th century are present (though notable exceptions include Mairéad Ní Mhaonaigh, Ciarán Tourish, Liz Doherty and Danny Meehan). Think of a Campbell, a Byrne or a McGinley and you'll find them here as well as musicians from virtually every area of the county. There are plenty of Donegal-influenced 'outlanders' too, and, most gratifyingly for old curmudgeons like me, all the musicians have been recorded unaccompanied.
<![if !supportEmptyParas]> <![endif]>
Each of the CDs includes biographies of the musicians and trenchant information on the tunes they play, provided by that font of wisdom Caoimhín Mac Aoidh. All proceeds from the sales of the albums are ploughed back into Cairdeas's work in supporting music in Donegal.
<![if !supportEmptyParas]> <![endif]>
Apologies to anyone expecting a full review of these albums – I'm too biased to provide such. GW.
<![if !supportEmptyParas]> <![endif]>
---
For more information visit www.donegalfiddlemusic.ie.
---