From Puck to Appleby:
Songs of Irish Travellers in England
Musical Traditions MTCD325-6; 2 CDs; 158 minutes; 2003
<![if !supportEmptyParas]> <![endif]>
<![if !supportEmptyParas]> <![endif]>
<![if !vml]>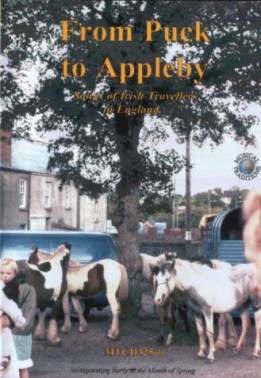 <![endif]>It may be 2003, but the window of a pub just a couple of hundred yards from my front door still carries the sign 'Travellers by Appointment Only' and they don't mean salespeople from the snacks industry. In many other ways, however, the lives of Irish travellers in England have changed substantially since Jim Carroll and Pat Mackenzie made these recordings of their songs and stories between 1973 and 1985 (with the assistance of Denis Turner). As the collectors note, the ready availability of the portable television was already sounding the death knell for the fireside gatherings at which many of these songs were passed on.
<![if !supportEmptyParas]> <![endif]>
Some of these recordings originally appeared on the Vaughan Williams Memorial Library's cassette Early in the Month of Spring, but the overwhelming majority of the 45 tracks represented on this double-CD collection have never been publicly available before. Though Jim and Pat recorded all sorts of songs from Travellers, the songs collected on From Puck to Appleby are drawn from their traditional repertoire, handed down from previous generations, and some, such as Going to Clonakilty the Other Day, refer to specific incidents within the Traveller community. The range of songs included here is simply staggering and made all the more intriguing by the 'crooning' style of delivery that many Travellers developed over the years.
<![if !supportEmptyParas]> <![endif]>
Presented in a DVD case with an accompanying 36-page booklet, replete with information about the Travellers and their songs, this is quite simply the most important and vital album of traditional song to emerge for some time.
<![if !supportEmptyParas]> <![endif]>
---
This review by Geoff Wallis was originally written for fRoots magazine – www.frootsmag.com.
The package is available for £16 (including p&p) from Musical Traditions, 1 Castle St, Stroud, Gloucestershire GL5 2HP, UK – www.mtrecords.co.uk.
<![if !supportEmptyParas]> <![endif]>
---
<![if !supportEmptyParas]> <![endif]>
<![if !supportEmptyParas]> <![endif]>