Fromseier Rose
<![if !supportEmptyParas]> <![endif]>
Contradiction
<![if !supportEmptyParas]> <![endif]>
Nunora Records NUNR CD001; 55 minutes; 2003
<![if !supportEmptyParas]> <![endif]>
<![if !supportEmptyParas]> <![endif]>
Fromseier Rose consists of the duo of fiddler Ditte Fromseier Mortenson, from the Danish island of Bornholm, and the Boston-raised pianist Michael G. Rose. So why are they being reviewed on an Irish traditional music site? Well, on this evidence, both have a profound feel for the Irish tradition (and actually first met at the 2001 Copenhagen Irish festival) while the second reason is somewhat simpler and consists in its entirety in the presence of singer Niamh Parsons as a guest vocalist on three tracks. <![if !vml]>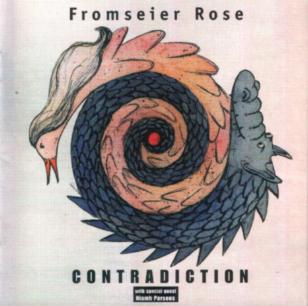 <![endif]>
<![if !supportEmptyParas]> <![endif]>
However, the bulk of the album consists of instrumental duets between Ditte and Michael coursing over a broad range of material. This includes a significant Northern element featuring two tunes learnt from the Feldman/O'Doherty collaboration, The Northern Fiddler, as well as Stormy Weather recorded by John Doherty in the associated Bundle and Go collection, and a reel ascribed to the Armagh fiddler Brendan McGlinchey. At the same time there's an old Scottish tune, Blue Bonnets over the Border, and a more modern one, Jennifer Wrigley's Rohan, all smattered with dashes of music from the Danish tradition, Michael's own compositions and pieces by musicians as varied as Jay Unger and Michael McGoldrick.
<![if !supportEmptyParas]> <![endif]>
While sometimes reminiscent of Mícheál Ó Súilleabháin (who has himself, of course, a great fondness for jazz) Michael G. Rose's piano style synthesizes the European and American jazz traditions with a dash of Latin music, a particular inspiration being the Cuban pianist Bebo Valdez. All this serves as an intriguing backdrop for Ditte's gracious fiddle playing, the combination of styles perhaps being most apparent on the duo's interpretation of the air Taimse im Chodlach. However, it has to be said that occasion there's just too much swing to her playing, as on Flax in Bloom, to be considered "pure drop" traditional music.
<![if !supportEmptyParas]> <![endif]>
Niamh's three songs offer their own counterpoint to the instrumental pieces. On After Aughrim's Great Disaster she sounds distinctly off-key in places and the musical accompaniment is sometimes obtrusive. Richard Thompson and Dave Swarbrick's old Fairport Convention classic Crazy Man Michael is a different matter altogether. Niamh resists any temptation to imitate Sandy Denny and the piano work here is entirely apposite. The final song, the Scottish Blantyre Explosion, however, she pulls a real tour de force out of her song bag, producing an essay in expressive sensitivity, accompanied by adroit and tasteful musicianship.
<![if !supportEmptyParas]> <![endif]>
All told, on this evidence, Fromseier Rose are an intriguing combination and there's much here to enjoy through repeated playing.
---
<![if !supportEmptyParas]> <![endif]>
This is an original review by Geoff Wallis.
<![if !supportEmptyParas]> <![endif]>
For more information about the Michael and Ditte visit www.fromseierrose.com.
<![if !supportEmptyParas]> <![endif]>
---
<![if !supportEmptyParas]> <![endif]>