Gaelic Ireland
<![if !supportEmptyParas]> <![endif]>
Arc Music EUCD 1821; 79 minutes; 2003
<![if !supportEmptyParas]> <![endif]>
<![if !supportEmptyParas]> <![endif]>
Do not be deterred by either the title of this album (which, as you will discover, is entirely appropriate) or the typically quasi-ethereal liner picture for Gaelic Ireland is a release well worth acquiring. Not only does it provide astonishingly good value, pushing the CD format's duration almost to its limit, but the album's eighteen tracks of songs in the Irish language include several classic exponents of the art of sean-nós. Furthermore, and most admirably, the record company has attempted to broaden the potential audience for this release by including translations of the liner notes into German, French and Spanish.
<![if !supportEmptyParas]> <![endif]>
<![if !vml]>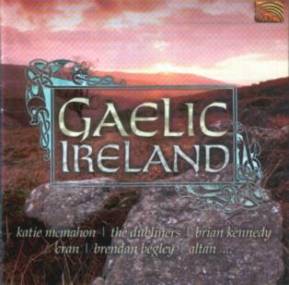 <![endif]>Said liner notes have been compiled by John O'Regan and, for the most part, they are surprisingly accurate (considering the writer's track record) and informative, though it would have been pleasant if the designer had considered indenting paragraphs! The introductory section provides information on the Irish language, sean-nós singing, collections and collectors, and the Gaeltachta (Irish-speaking areas).  Information on each of the eighteen tracks provides a biography of the singer or group and details of the song's source and, sometimes, genesis and development.
<![if !supportEmptyParas]> <![endif]>
The songs on the album are rather a mixed bag, though certainly not in terms of the scope of the material offered here. Rather, the problem lies in the selection of the singers and musicians on show here. These range from the utterly essential (Diarmuid Ó Súilleabháin, Brendan Begley, Róisín Elsafty, Seán 'ac Dhonncha, Seán de hÓra, Lasairfhíona Ní Chonaola and Dáithí Ó Sé) to the rather perturbing presence of Van Morrison's erstwhile vocal sidekick, Brian Kennedy, the Cork singer Ger Wolfe (far better known for his English language compositions) and the downright questionable Ann Mulqueen and daughters whose rendition of the classic Na Connerys "ends up sunk beneath a sea of solo and choral saccharine" (to quote Fred McCormick's acutely accurate review). There are also some rather middling folkish performances from Éilis Kennedy, Finola Ó Siochrú and Katie McMahon.
<![if !supportEmptyParas]> <![endif]>
The group tracks are also varied in quality. Altan's Dúlamán is far too familiar, though, contrastingly, it's grand to see Cran's Na Ceannabháin receiving a wider airing. However, The Dubliners' Cill Chais is an horrendous exercise and it's fundamentally difficult to understand why Na Filí, a group which disbanded in 1979, has been included.
<![if !supportEmptyParas]> <![endif]>
Nevertheless, taking a pinch of salt, there's still plenty to admire here, although it is disappointing that an opportunity to include some of the great sean-nós singers has been lost. Where, for example, are Joe Heaney, Nioclás Tóibín, Darach Ó Cathain, Máire Áine Ní Dhonnchadha, either of the Ní Dhomhnaill sisters, Elizabeth Cronin, Róise Bean Mhic Grianna or Tom Costello? And it would have been pleasant to have included one of John Beag's country and Gaelic compositions.
---
<![if !supportEmptyParas]> <![endif]>
This is an original review by Geoff Wallis.
Arc Music's site is www.arcmusic.co.uk.
<![if !supportEmptyParas]> <![endif]>
---
<![if !supportEmptyParas]> <![endif]>
<![if !supportEmptyParas]> <![endif]>


 

<![if !supportLineBreakNewLine]>
<![endif]>
<![if !supportEmptyParas]> <![endif]>