Gerry O'Connor
<![if !supportEmptyParas]> <![endif]>
No Place Like Home
<![if !supportEmptyParas]> <![endif]>
Myriad Music MMCD002; 40 minutes; 2004
<![if !supportEmptyParas]> <![endif]>
It's hard to resist the London bus analogy, but just as you've been waiting for one Gerry O'Connor album to arrive along comes another. This is courtesy of the Tipperary-born version of that ilk who for years has had to carry the additional 'banjo' between his first name and surname. One glance at the album liner's cover reveals that this particular Gerry would nowadays prefer said interjection to consist of 'banjo/fiddle', so one can only hope that his Dundalk-born namesake doesn't suddenly become Gerry 'fiddle/banjo' O'Connor. Then there's the other Gerry O'Connor to consider, but wandering down that route would only provide bitter memories of the man who told me he'd just witnessed Dermot Byrne playing guitar with a blues band at a pub in Temple Bar.
<![if !supportEmptyParas]> <![endif]>
<![if !vml]>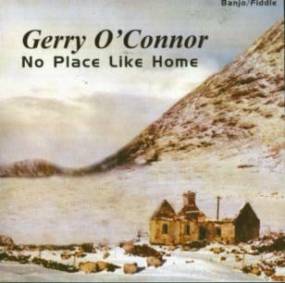 <![endif]>Anyway, No Place Like Home is the third solo album by the Four Men and a Dog's bearer of the O'Connor name and sees the Garrykennedy man in a far more relaxed frame of mind than on his two previous excursions, Time to Time and Myriad. Of course, being Gerry, the eclecticism remains, so he's happy to wander into bluegrass territory with Billy in the Lowground (accompanied by Brendan O'Regan on slide bouzouki) and his own three compositions often veer into unforeseen provinces – Ruby's Birthday, for instance, is reminiscent of the kind of arpeggio exercises undergone by anyone studying classical provinces.
<![if !supportEmptyParas]> <![endif]>
Gerry's picking is precision incarnate, but, this time around, he appears to be taking his measure of the traditional tunes and, in doing so, providing a more considered approach. Sure, the set of Paddy O'Brien compositions reveals that his reputation as the fastest banjo player in the west remains untarnished, but one senses a guiding hand leading him onward towards the tunes' innate quality rather than enjoying speed for speed's sake. The fiddle, by the way, appears on track nine's Rory's Reel, a Brendan O'Regan composition, which unfortunately suffers from a meandering and instantly forgettable melody.
<![if !supportEmptyParas]> <![endif]>
The astonishing intricacy of the Banish Misfortune/Trip to Killarney set is thoroughly enhanced by Tommy Hayes's bodhrán while the bass of Damien Evans augments tunes such as Conor's Capers.
<![if !supportEmptyParas]> <![endif]>
As ever with Gerry (contrast the album's title with the picture on the liner), there's an incisive humour operating. Sometimes it works and sometimes it doesn't, but No Place Like Home still reveals a tantalising talent forging his own paths regardless.
<![if !supportEmptyParas]> <![endif]>
Geoff Wallis
<![if !supportEmptyParas]> <![endif]>
19th March, 2005
<![if !supportEmptyParas]> <![endif]>
---
<![if !supportEmptyParas]> <![endif]>
For more information visit www.gerryoconnor.com.
<![if !supportEmptyParas]> <![endif]>
---