Hammy Hamilton
<![if !supportEmptyParas]> <![endif]>
The Moneymusk
<![if !supportEmptyParas]> <![endif]>
Ossian – OSS CD 120; 43 minutes; 2001
<![if !supportEmptyParas]> <![endif]>
A much awaited re-release CD of Hamilton's debut solo recording, first available in 1990 as a cassette, this is more than a mere reissue. The CD includes six brand new tracks, which brings the total to a generous eighteen tracks for this new version of the album. <![if !vml]>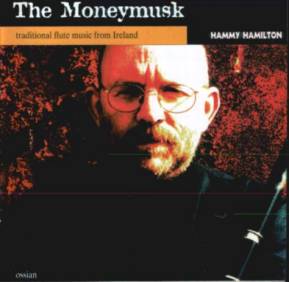 <![endif]>
<![if !supportEmptyParas]> <![endif]>
It's such a pleasure to rediscover Hammy's wonderful playing and hear it at "centre stage"--I felt that it didn't get quite the exposure it deserved on the recently released CD It's No Secret, recorded with Séamus Creagh and Con Ó Drisceoil. From the original tape, there are some tremendous duets with fiddle player Connie O'Connell and with fellow flute player Paul McGrattan, as well as the two great jigs, The Woodcock and The Kerfunten, which Hammy composed and which are now universally played.
<![if !supportEmptyParas]> <![endif]>
Amongst the new material, on which I find Tom Stephens' otherwise excellent guitar accompaniments a bit too high in the mix, are a couple of sets of 'Northern' polkas originally recorded by John McKenna and James Morrison, the classic reels The Skylark and Roaring Mary, the simple but effective Pigtown and Anything for John Joe, and the lovely air An Buachaill Caol Dubh. A welcome re-release indeed.
<![if !supportEmptyParas]> <![endif]>
---
<![if !supportEmptyParas]> <![endif]>
This review by Philippe Varlet was originally written for his Celtic Grooves Newsletter and appears here by kind permission of the author.
<![if !supportEmptyParas]> <![endif]>
For more information about Ossian click here.
<![if !supportEmptyParas]> <![endif]>
---
<![if !supportEmptyParas]> <![endif]>