Hands Across the Water
<![if !supportEmptyParas]> <![endif]>
Compass Records 7 4411 2; 64 minutes; 2006
<![if !supportEmptyParas]> <![endif]>
Released to support the aid effort aimed at assisting survivors of the dreadful tsunami which devastated Southeast Asia and Indian Ocean areas in 2005, Hands Across the Water is an intriguing snapshot of the current state of play of the Compass label. Known for both its New Country and Irish traditional roster of artistes, the album's sixteen tracks reveal some remarkable collaborations (<![if !vml]>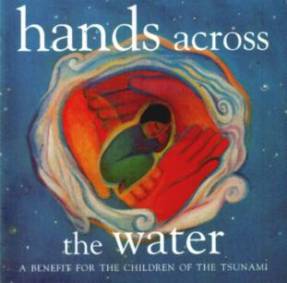 <![endif]>and include musicians from other labels too).
<![if !supportEmptyParas]> <![endif]>
On paper some of these are hard to imagine (and must have been even harder for some of those involved in studios separated by thousands of miles). Thus Standing Still features vocalist Andrea Zonn in Nashville, guitarist Bill Shanley in Dublin and Flook in Bath, while Altan and Vince Gill conjoin further studio recordings recorded in Ireland's capital and the home of the Grand Ole Opry. Tim O'Brien and Lúnasa (strangely without Seán Smyth) combine on Fair and Tender Ladies from similar locations and there are several more such conjunctions. However, perhaps the most complex is Solas and Mindy Smith's rendition of Reasonland, recorded at three separate studios and, according to the notes, 'by Seamus Egan in various hotel rooms'.
<![if !supportEmptyParas]> <![endif]>
Perhaps the oddest of all, though, is John and Fiona Prine's version of 'Til Tears Become a Rose with the singers recorded in Nashville and Dermot Byrne sitting at home in Carrickfin adding accordion. It's hard not to resist the image of Dermot, dextrous lad that he is, struggling to switch between accordion and recorder buttons.
<![if !supportEmptyParas]> <![endif]>
Unsurprisingly and appropriately the overall mood is reflective, and occasionally sombre (as emphasized by Jerry Douglas's collaboration with Ciarán Tourish on In the Sweet By and By). The nearest any track gets to a break-out is Cumberland Plateau which sees John Cowan linking up with the Brock Maguire band (and it's strange that the wildest banjo on an album emanating from Nashville should come from Galway's Enda Scahill).
<![if !supportEmptyParas]> <![endif]>
A worthy cause and a thoroughly enjoyable album – buy one while stocks last.
<![if !supportEmptyParas]> <![endif]>
Geoff Wallis
<![if !supportEmptyParas]> <![endif]>
20th September, 2006
<![if !supportEmptyParas]> <![endif]>
---
<![if !supportEmptyParas]> <![endif]>
<![if !supportEmptyParas]> <![endif]>
<![if !supportEmptyParas]> <![endif]>
<![if !supportEmptyParas]> <![endif]>
<![if !supportEmptyParas]> <![endif]>
<![if !supportEmptyParas]> <![endif]>