Martin Hayes and Dennis Cahill
<![if !supportEmptyParas]> <![endif]>
Welcome Here Again
<![if !supportEmptyParas]> <![endif]>
Green Linnet GLCD 1233; 53 minutes; 2008
<![if !supportEmptyParas]> <![endif]>
The first studio album to be released for ten years by the Clare-born fiddler Martin Hayes and Chicago's Dennis Cahill on guitar and mandolin, provides ample evidence that this inspired duo remains Irish music's most symbiotic partnership.
<![if !supportEmptyParas]> <![endif]>
<![if !vml]>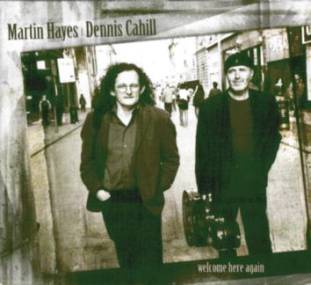 <![endif]>The opening track, The Clare Reel, played here slightly slower than the norm, offers a delicious insight not only into the subtleties of that relationship, but illustrates its utterly mesmerising qualities. Their ability to draw the listener into (in Martin's words) 'the world of musical intangibles – the place that is governed by heart, soul, feeling and instinct' remains unparalleled in the Irish musical cosmos.
<![if !supportEmptyParas]> <![endif]>
Such exploration is an explicit component of P. Joe's Reel, whose name derives from Martin's late father and provides glorious interplay between fiddle and mandolin, suggesting a never-ending round of music whose sudden truncation leaves the tune lingering in the listener's ears.
<![if !supportEmptyParas]> <![endif]>
Martin's fiddle is tuned down a full step on half of this eighteen-track set, a tonal shift which reinforces the 'lonesome' sound often associated with the fiddlers of his native East Clare. That is most apparent on his soulful rendition of the slow air The Dear Irish Boy. Elsewhere, the swoop and soar of his fiddling coexisting with Dennis's seemingly innate ability to provide both rhythmic support and melodic counterpoint simultaneously achieves its zenith on a magnificent set of reels kicked off by The New Post Office.
<![if !supportEmptyParas]> <![endif]>
Music as instinctive and soulful as this deserves a wide audience and one that should be as utterly captivated by the experience as this reviewer.
<![if !supportEmptyParas]> <![endif]>
---
<![if !supportEmptyParas]> <![endif]>
This review by Geoff Wallis first appeared in Songlines magazine.
<![if !supportEmptyParas]> <![endif]>
---
<![if !supportEmptyParas]> <![endif]>
<![if !supportEmptyParas]> <![endif]>