Hugh Healy and Colm Healy
<![if !supportEmptyParas]> <![endif]>
Macalla na hÓige
<![if !supportEmptyParas]> <![endif]>
Killeen Music KMCD 001; 46 minutes; 2004
<![if !supportEmptyParas]> <![endif]>
<![if !supportEmptyParas]> <![endif]>
Hugh and Colm Healy are young brothers who hail from Corofin in County Clare and play, respectively, concertina and button accordion, a combination which naturally recalls the recordings of two older Clare musicians, Noel Hill and Tony MacMahon. Macalla na hÓige is their debut album and provides a fine introduction to two sparkling talents.  
<![if !supportEmptyParas]> <![endif]>
<![if !vml]>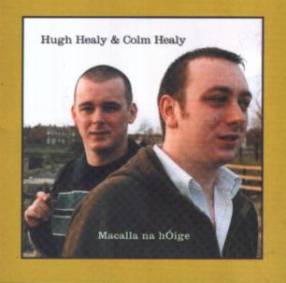 <![endif]>There's something utterly infectious about the sound of concertina and accordion in conjunction and anyone who loves I gCnoc na Graí will fully appreciate the Healys' offering. It's also gratifying to hear two young musicians eschewing any instrumental pyrotechnics and allowing the tunes do the talking.
<![if !supportEmptyParas]> <![endif]>
To this end, Hugh and Colm are aided by pleasantly understated accompaniment from Fergal Scahill on guitar and bodhrán and the double bass of Paul O'Driscoll while other participants include their brother Eric Healey on fiddle, Michael O'Connell (uilleann pipes). Karol Lynch (banjo) and Noel O'Donoghue (concert flute).
<![if !supportEmptyParas]> <![endif]>
Many of the melodies featured here will be familiar to ears attuned to Clare's music, but, perhaps unusually, considering their lack of currency in the county, there are three sets of hornpipes, including a refreshingly relaxed rendition of The Chancellor. There's also a delightful French waltz, La Tombe dans les Pommes, which the lads describe as "a frivolous French country dance", where you can almost hear the sound of their tongues popping through their cheeks.
<![if !supportEmptyParas]> <![endif]>
For the most part Macalla na Óige simply represents two adept musicians relaxing in the enjoyment of their music. Indeed, only on a set of reels, kicked off by Thomond Bridge, do they seem to be cranking up a gear, while the closing track (The Broken Pledge/Tommy Peoples' reels) amply demonstrates why the writer of the album's liner notes, Kevin Crawford "was enjoying the music so much that (he) drove around the block twice at 5 o'clock in the morning just to hear the last few tunes on the disc". Though you might not be driven (sorry) to similar lengths (unless you're offered a lift by Kevin), you'll thoroughly take pleasure in this estimable album.
<![if !supportEmptyParas]> <![endif]>
Geoff Wallis
<![if !supportEmptyParas]> <![endif]>
16th March, 2004
<![if !supportEmptyParas]> <![endif]>
---
Click here to visit the Healy brothers website. The CD is almost certainly available otherwise from Custy's Music Shop in Ennis.
---
<![if !supportEmptyParas]> <![endif]>
<![if !supportEmptyParas]> <![endif]>
<![if !supportEmptyParas]> <![endif]>
<![if !supportEmptyParas]> <![endif]>